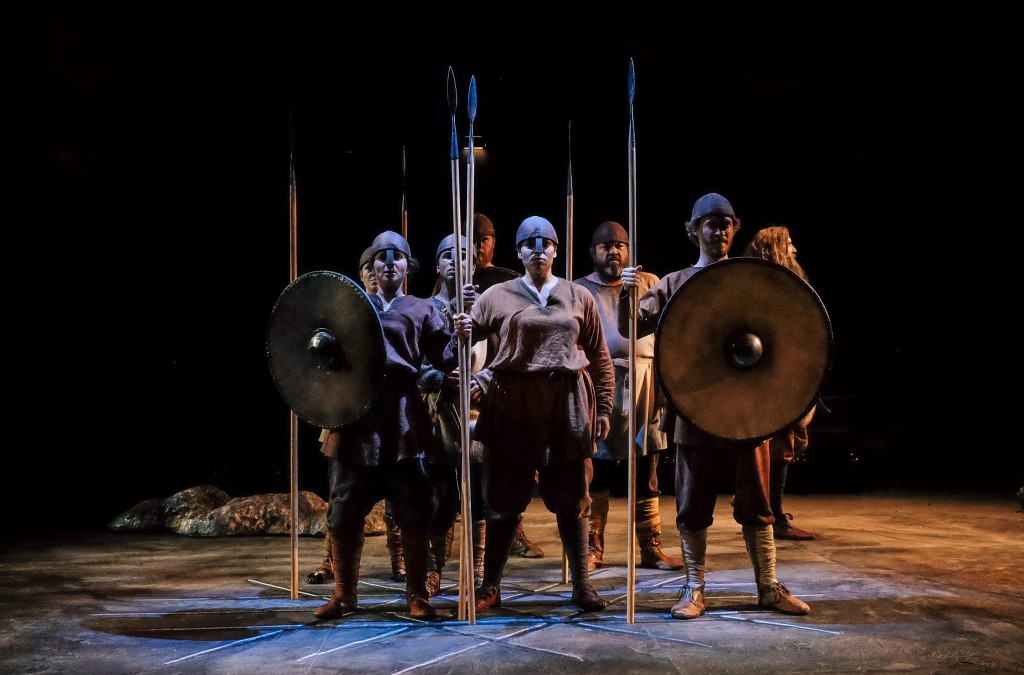 Casting
General Casting Advice
Professional actors should submit their details based on Casting Breakdowns produced for each individual show.  The New Vic does not keep CV's on file.  Once shortlisted, our creative team will hold show-specific auditions at the theatre, and in London, by appointment only.  The New Vic does not hold general casting sessions.
DIANA OF DOBSON'S by Cicely Hamilton
TALENT by Victoria Wood
THE MOUNTAINTOP by Katori Hall
Three forthcoming plays directed by Abbey Wright
We are looking for a small company of actors with good theatre credits to do one, two or three of the following:
DIANA OF DOBSON'S by Cicely Hamilton
Reh. begin: 4 April
Open: Friday 29 April
Last show: Saturday 14 May
TALENT by Victoria Wood
Reh .begin: 2 or 3 May
Open: Friday 20 May
Last show: Saturday 4 June
THE MOUNTAINTOP by Katori Hall
Reh. begin: 23 MAY
Open: Friday: 10 June
Last show: Saturday 26 June
New Vic company wage will be £439 from April + subsistence where applicable (currently £154)
Casting breakdown:
BRETHERTON (Diana of Dobson's) / MEL & COMPERE (Talent) (Male)
Dates: 4 APRIL – 4 JUNE inclusive. PROBABLY MID/LATE 30'S.
Captain the Honorable Victor BRETHERTON: R.P. – Was in the Welsh Guards but has 'extravagant tastes' and is now likely destined for a post in Government as this is the 'only thing he is fit for'. One of several brothers, a member of the 'ornamental, lounging' class, puppyish, indulged, not unkind but never been seriously challenged, comfortable with self and life, good-natured, convivial, likes fun. Has charming self-depreciating, witty turn of phrase. Amusing.
MEL: PIANO an advantage – please state if pianist, and ensemble singing a MUST. Mel is a Junior Sales Executive and is 31. The play will be set in 1978. In this world, he is on the make. He is the organist at the club. He is a bit flash. Looks down his nose at the clientel, and the contestants. He used to have a red sports car and owns his own house. He is married to Cathy Christmas, a minor local celebrity who is a big deal, and seems to be the boss in their relationship. He isn't a bad chap at all and might have been in love with Julie (lead role), but ran away when he heard she was pregnant. He is now clinging to his status, a slight cut above, in this fairly seedy and corrupt small world of local talent. He isn't insensitive necessarily by nature but did ditch Julie to put himself first, as a young man could. And he can be crass.
AND
COMPERE: This role will double with Mel. The Compere is assistant manager of the cabaret club and as scripted, 44, but we are looking for an actor who can through-cast across this range of roles. The important thing about this role is that he feels older than Julie and Maureen and so his attentions towards them feel seedy and inappropriate from this point of view. Hard-nosed. Paper-thin charisma. Cheap. Sexual predator on young women. Expects them to see him as powerful, authority figure and man with contacts. But he's a bit disgusting, desperate and inept.
Age: 33 – 37
Ethnicity: Any
Height: Any
MRS. CANTELUPE (Diana of Dobson's only) (Female)
Dates 4 APRIL – 14 MAY inclusive.
40's. Comic actress with a light touch. A very chic woman in her 40's. She is independent, effortless, belongs to the upper-class, attractive, acerbic, at home in this circle, has natural status. cool. This role needs a fine and acerbic performance. Immediately you see her, you sense the money and breeding. Charming. A strategist. A smart woman. Managing the lives (and fortunes) of her various nephews and nieces.
Age: 44 – 49
Ethnicity: Any
Height: Any
JABEZ (Diana of Dobson's)/ ARTHUR (Talent) (Male)
Dates: 4 APRIL – 4 JUNE inclusive.
Sir JABEZ Grinley: Late 40's/50's. Leading role. Regional accent. A heavyweight industrialist. Should have a regional accent. Not born into wealth and educated to speak RP. he is new money and newly titled. A self-made man. He is the owner of Dobson's in Clapham, Diana's place of employment. He has a roughness of manner but is amiable and good-natured with people of the upper class though Diana intuits he is a 'tyrant' with his employees. He is an old-fashioned, no-nonsense business type. Proud of what he has made of his life. Feels entitled to enjoy it. He is working class or lower-middle class. But holds himself well. Another fish from a different pond amongst this set, like Diana. He should feel real world. Not afraid of getting his hands dirty. Strong, bull-like, manly man. Doesn't think twice about his business practise. 'That's business' approach. Law of the jungle talk. Mercenary. Doesn't care about taste. Has the money and the title so expects respect.
AND
ARTHUR: This is a nice COMIC ROLE for an actor with SINGING ability and an authentic Northern accent. 59, warm, old fashioned working class chap with off-beat charisma. He sings a duet called 'PALS' with his mate George. They are a classic, Northern, variety, double act – though factory workers by day. A lot of punchline humour. Arthur is helping George out as magician's assistant, in the absence of George's wife, with his light-hearted comedy magic show with BANJO finale – He has a new card trick act which he tries out. George orders jokes for Arthur from a catalogue which Arthur delivers.
Age: 45 – 59
Ethnicity: Any
Height: Any
WAITER / PC FELLOWES (Diana of Dobson's) & GEORGE FINDLAY (Talent) (Male)
Dates 4 APRIL – 4 JUNE inclusive.
EXCELLENT PIANO SKILLS REQUIRED. 60's.
WAITER: Vital in communicating the class of the establishment at Pontresina. He will be discreet and immaculate, understated. Perhaps with a faint Swiss.
DOUBLED WITH
PC FELLOWES: A police constable on the beat, responsible for moving on vagrants who are sleeping on the embankment. Previously, he served in the Welsh Guards under Captain Bretherton. Lower middle class or working class. London.
AND
GEORGE FINDLAY. Great COMIC role. Old fashioned NORTHERNER, Lancs / Yorks. 69, retired factory worker. He does light-hearted comedy magic as his act and a BANJO finale. (This actor doesn't need to play the banjo!) He does his act on the pensioners' circuit. His wife is usually his assistant. He has no interest in winning. He didn't even know it was a contest. He sings a duet with his mate Arthur entitled 'PALS'. George and Arthur make a classic double-act – pure Northern variety through and through. Good-hearted, family-oriented, enjoying himself, sociable, courteous, a favourite with the 60 years young club. A gent. An old pro – but amateur or very low-rent. A lot of punchline humour.
Age: 60 – 70
Ethnicity: Any
Height: Any
MISS PRINGLE / MISS WHYTE-FRAZER / OLD WOMAN (Diana of Dobson's only) (Female)
Dates: 4 APRIL – 14 MAY inclusive.
Mid 40's – early 50's. To play THREE roles in the one show.
MISS PRINGLE – Middle-aged, 'sour-faced', the forewoman. She is a strict jobsworth. She relishes her authority. She clashes with Diana who does not respect her authority. Her job is to be the disciplinarian and to keep order. Cold. Perhaps lonely. Londoner?
MISS WHYTE-FRAZER: Actress with a COMIC light touch. The wife of a Colonel, She is old English thoroughbred class. She is practical. She lacks the sensuality of Mrs Cantelupe but is just as expensively presented. Perhaps there is royalty somewhere distantly in her family. She is perhaps a bit masculine in demeanour. At home in the countryside and with outdoor sports. A confidant of Mrs Cantelupe, she is harsh when it comes to discussing the lower classes.
OLD WOMAN: A vagrant sleeping rough on the embankment. She is a working class London woman. She has been homeless for a long time and knows how to work the patch. Savvy. She has chosen a particular bench so she can be near the coffee stall for breakfast!
Age: 45 – 53
Ethnicity: Any
Height: Any
MISS MORTON or MISS JAY or MISS SMITHERS (Diana of Dobson's) & MAUREEN (Talent) (Female)
Dates 4 APRIL – 4 JUNE inclusive.
Mid/late 20's. Strong, COMIC actress with excellent Northern accent – Lancs. / Yorks. Preferably a PIANIST – please state. Ensemble singing required.
MISS MORTON or MISS JAY or MISS SMITHERS – Small roles. Workers at Dobson's Drapers in Clapham, London.
AND
MAUREEN – A comic, LEADING role. PIANO desirable. Set in 1978. Bit over-weight and less attractive than her singing friend and old schoolmate Julie who Maureen is always happy to run around after. Although generally Maureen prefers to stay in with her colouring book than go out! Accompanies Julie to/at a local talent show.
Age: 23 – 27
Ethnicity: Any
Height: Any
KITTY (Diana of Dobson's) & JULIE (Talent) & CAMAE (The Mountaintop) (Female)
Dates: 4 APRIL – 26 JUNE inclusive – 3 shows.
BLACK or MIXED-RACE. 20's. Strong COMIC actress with good SINGING – club style! skills. Excellent NORTHERN accent Lancs./Yorks. and SOUTHERN AMERICAN,
KITTY – Small role. Worker at Dobson's Drapery, Clapham, London.
AND
JULIE – Leading role. 24, a secretary. Set in 1978. We need a strong comic actress and excellent singer, with authentic Northern LANCS./YORKS. accent. Julie has SOLO SONGS. Julie has made herself believe this Talent contest is her last chance to escape her crappy love-life and boring work-life and to 'reach for the stars'. Julie is used to being centre of attention (usually male). She is sexy, and outgoing. She can be insensitive to Maureen and she's happy with Julie being the leading lady and Maureen the skivvy. This is a local talent competition and she is a local girl. She hasn't travelled at all but has taken more risks than Maureen. She gets invited to a club by a bloke and has a crap time, whereas Maureen stays at home and does her colouring in. She has been friends with Maureen through school. Maureen will always run around after her. And despite her put-on glamour, Julie's confidence has been dented by her past experience. She's a bit lost at the start of the play. The whole world flirts with her and she is giddy with it. But has a sadness in her and is looking for fulfilment. From a bit of a rough family. She is naturally resilient and spunky and sticks two fingers up to the exploitative nature of the contest at the end of the play. It is a moment of triumph for the two girls and their friendship. And you feel Julie is going to be okay in life.
AND
CAMAE – 20's. HUGE role. Joint lead in this two-hander. SOUTHERN AMERICAN accent. The Lorraine Motel Maid. The play is set in 1968, the night before the murder of Martin Luther King Jr. Camae is forthright, outgoing, playful, alpha, a good match for MLK. She is insightful, witty, young. She is beautiful, alive. We need an actress who has a lot of gears, is free onstage, and can be comic and powerful. The play moves between sexual tension, wild humour, mischief, political and spiritual power, a man facing death. We need an actress who can take us on this journey.
Ethnicity: Black-Other Areas, Black-Caribbean, Black-African, Mixed Race, African-American
Ages: 21 – 29
Height: Any
Closing date for applications is Friday 12 February at 12.00pm.  Any submissions received after this time cannot be considered. Please submit to casting@anjicarroll.tv with Abbey Wright Season, followed by the part you're submitting for, in your e-mail subject line.