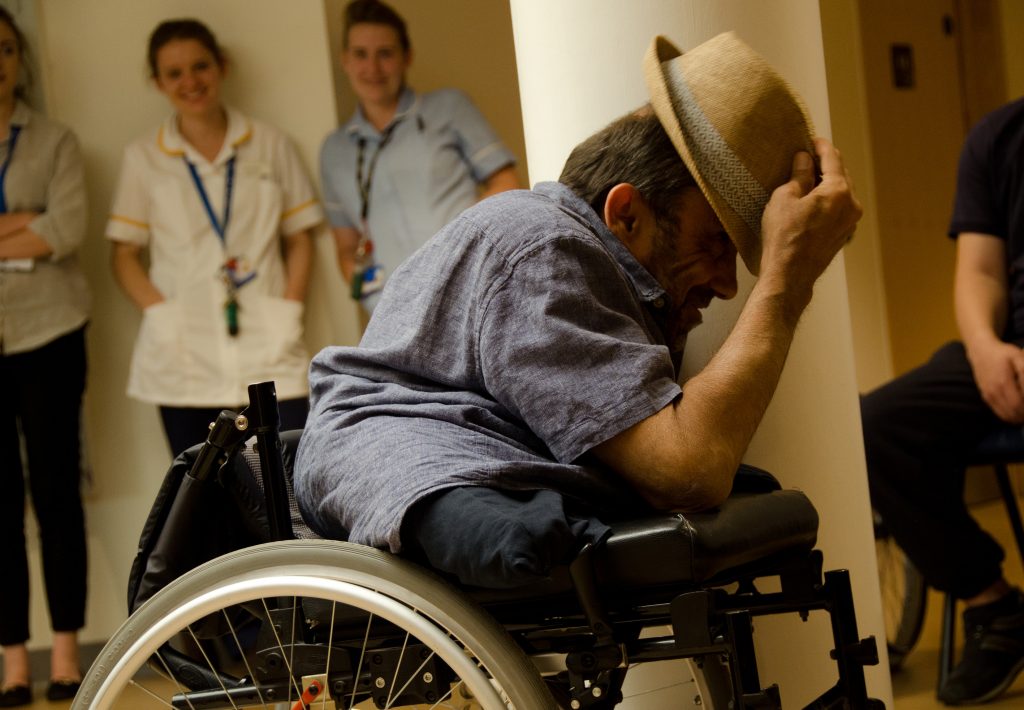 FRONTLINEdance
FRONTLINEdance is our Associate Artist under The Kiln programme for 2017
About FRONTLINEdance
Under the Artistic Direction of Rachael Lines, Stoke-on-Trent & Staffordshire based FRONTLINEdance is an integrated (disabled and non-disabled) dance company. We exist to create a more visible culturally diverse society – positively celebrating disability and older age. We want the same access and progression routes into dance for disabled children and young people that exist for their non-disabled and younger peers. We also strive for disabled artists being viewed in the same professional light as mainstream dancers, choreographers and facilitators.
Integrating groups and people together is very important to us – it drives the company and our projects forward and excites us artistically. FRONTLINEdance breaks down the barriers for people to engage in dance through participation and performance, by playing a positive role in integration and community cohesion.  As a disability focused company working with older people too, we engage and encourage all ages and abilities (beginners to professionals) in a diverse range of community settings.
The professional company tours integrated dance work, mainly choreographed by the company's Artistic Director, Rachael Lines, to un-conventional theatre settings, hospitals and schools, often working with musicians, story tellers and visual artists. Since we began (2000) we've been choreographing our own work, making FRONTLINEdance the first integrated dance company in the UK to do so.
Our work is informed by and clearly contributes to key national and local agendas such as 'Creative Case for Diversity & Ageing Well' making a positive social impact. FRONTLINEdance is appreciated for our sensitive work with disabled people, older people and people of all ages in healthcare settings, particularly hospitals.
 "I have seen similar performances that involve reaching out to audiences that have limited access to theatre and performance i.e. in hospitals and care homes – but this was the highest quality piece of work I'd seen of this kind. It was a delight to see the reactions to the dancers from members of the public. Everyone of all ages seemed to be enthralled and transfixed by the performance from tiny babies to the elderly." Arts Development, Staffordshire County Council, 'Happenchance' (2016)
FRONTLINEdance was co-founded by Rachael Lines and Michael King in 2000, and officially became a not-for-profit company Ltd by guarantee (no shareholders in 2001).
FRONTLINEdance is currently funded by Arts Council England's Elevate fund to develop the company and move forward.
 "FRONTLINEdance is known for creating inspiring and inclusive dance that makes a real difference to people's lives in Staffordshire and beyond. We look forward to seeing how our investment can help the company grow and thrive." Area Director of Arts Council England.
Previous FRONTLINEdance projects
Contact FRONTLINEdance
Visit: frontlinedanceltd.wordpress.com
Email: frontlinedanceltd@gmail.com