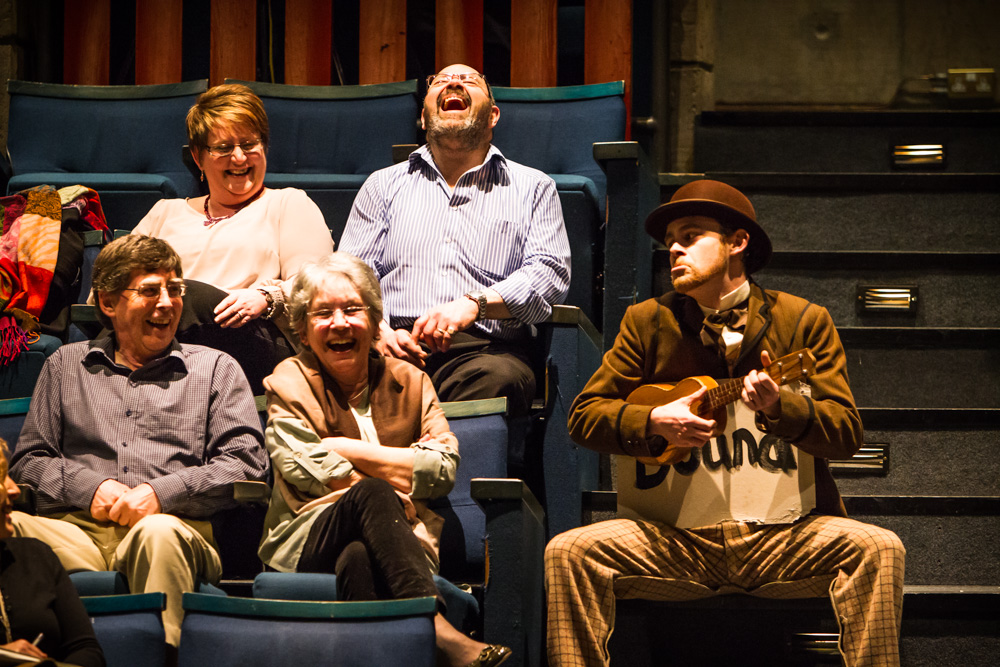 Friends
We'd like you to be our friend.
We'd like to invite anyone with an interest in theatre to become a New Vic Friend and meet lots of other like-minded people, learn more about theatre, and enjoy a varied social programme.
You'll also be supporting the theatre's work, helping to spread the word, to raise money and to encourage others to enjoy the work of one of the country's best and most successful theatres.
Visits to other theatres
Invitations to rehearsals, Spotlights and other events
Advanced info
Lots more
Spotlight
Join the design team behind the magic of this year's Christmas show. Resident Designer Lis Evans and Head of Workshops Laura Clarkson talk on-set about the design of the Christmas show Robin Hood & Marian.
Date:  Fri 8 January
Time:  2.00pm – 3.00pm
Venue:  Auditorium
Cost:  Free event
To book: call 01782 717539
Dress Rehearsal
Kiss Me Quickstep
by Amanda Whittington
directed by Theresa Heskins
A world premiere production of a new play commissioned by the New Vic from "our most consistently popular female dramatist". We follow the highs and lows in the lives of three couples competing in Blackpool's Ballroom Dancing Championships.
Date:   Thurs 3 March
Time:   7.15pm
To book:  Call Marketing on 01782 717539
Important note:
We regret that, due to ever-increasing demand and limited places, it is becoming more difficult to accommodate everyone who would like to see dress rehearsals. Where places are over-subscribed, it seems fairest to draw names out of a hat (on subsequent occasions, priority will be given to those whose names were not previously drawn).
Theatre Trip
The Great Gatsby – Shrewsbury Theatre Severn
By F. Scott Fitzgerald
Adapted by Stephen Sharkey
An afternoon in Beautiful Shrewsbury and a performance of this great American classic.
Date:   Thurs 28 January
Time:  2.30pm leave the New Vic
Venue:  Shrewsbury Theatre Severn
Cost:  £35.00
To book: call 01782 717962
To find out more contact Kay Wilson:
tel: 01782 717 539
email: kwilson@newvictheatre.org.uk