James Atherton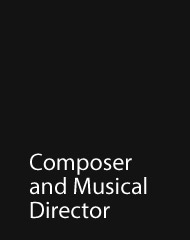 James Atherton
Composer, Musical Director
For the New Vic: Around the World in 80 Days (2017 co-production with Kenny Wax Family Entertainment, Simon Friend and Royal Exchange Theatre); The Snow Queen, Peter Pan in Scarlet, Kiss Me Quickstep, Robin Hood & Marian, the Hoard Festival, The Borrowers, Around The World In Eighty Days (2014 co-production with Royal Exchange Theatre; 2013); The Hundred and One Dalmatians, Stones in His Pockets, Around the World in Eighty Days, A Christmas Carol, Phoenix From the Flames (Olympic torch relay); Alice in Wonderland, Peter Pan, The Lion, the Witch and the Wardrobe.
Theatre as composer/musical director credits include: The Visitors Book (Hope Mill Theatre); The Giant Jam Sandwich, The Tiger's Bones (New Perspectives – National Tour); Tis Written In The Stars (Oldham Coliseum); Bedtime Stories (Upswing at Stratford Circus).
Television as composer credits include: The History Of Christianity,Tales From the National Parks, The Lives of Gandhi, Around the World in 80 Faiths (BBC); Survivors, Kenny Everett: Licence to Laugh (ITV1); The Unseen Eric Morecambe (Channel 4); Roger to the Rescue (Cosgrove Hall); Colleen's Secrets (Channel 5);  All in the Game, starring Ray Winstone (Film4).
James is also the artistic director of the renowned Oldham Theatre Workshop.