Laura Willstead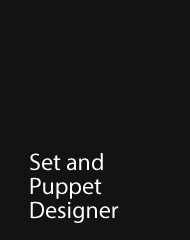 Laura Willstead
Set/puppet Designer
For the New Vic: Snow Queen (Winner of UK Theatre Awards for Best show for Children and Young People); Robin Hood & Marian, Dracula, The Borrowers, The Hundred and One Dalmatians, A Christmas Carol, Alice in Wonderland, Peter Pan, The Lion, the Witch and the Wardrobe, Great Expectations, The Knotty (set design); The Flood, Katy Clay (Education TiE tour), All Mixed Up (Borderlines TiE tour), Cuba, The Government Inspector (Youth Theatre Main House) and Fright Fest (Youth Opportunity).
As Assistant Designer for the New Vic: The Wizard of Oz, Abigail's Party, Beauty and the Beast and Kes.
Theatre designs include: The Game (Northern Broadsides national tour); Previous (Geese UK Theatre Company national tour); Would Like to Meet (Stoke Rep); On the Home Front, Singin' in the Rain and Sticks and Stones (Reveal Theatre Company); The Caucasian Chalk Circle, The Good Woman of Szechwan (Arden Theatre); Dealing Dreams (Real Life Theatre Company).
Film and television credits include: Britannic Street, BT TalkWorks promotion, BP, International Climate Control, Manchester Mardi Gras (Ric Mellis Productions) and Hollyoaks and Brookside (Mersey Television).
Laura is the Head of Workshops at the New Vic Theatre.