Molly Roberts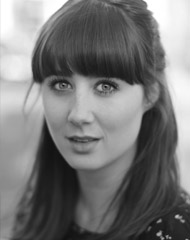 Molly Roberts
Beatrice Sutton
For the New Vic: The Snow Queen.
Theatre credits include: This Must Be The Place (Latitude Festival/Vault Festival); Romeo and Juliet, Much Ado About Nothing and Twelfth Night selections (Hotspur Theatre); Twelfth Night (Oxford Shakespeare Company); Jumping Puddles (Frantic Assembly/Open Clasp UK tour); Apathy (Theatre Uncut/Old Red Lion); Free Fall (Pleasance – OffWestEnd Award nominated); Life On A Plum (Wilderness Festival); The Allotment (Live Theatre); Our Father and FlickBook (both Theatre503); Burn: Fahrenheit 451 (ELAN Frantoio, Italy); Dracula (Broadway Theatre); Shakers (Yvonne Arnaud).
Television and commercial credits include: Inspector George Gently (BBC); Tony Robinson's Gods and Monsters (Channel 4); Flat 32 (co-creator, Channel X); Unshackled Mobile and new Premier Inn campaign.
Molly was nominated for Best Female Performance at the 2014 Off West End Theatre Awards for her role in Free Fall by Vinay Patel.
Molly is currently one of The Old Vic 12 for The Old Vic theatre and Artistic Director of multi-award winning new writing company Poleroid Theatre.
Molly trained at the Guildford School of Acting.