Owen Aronovitch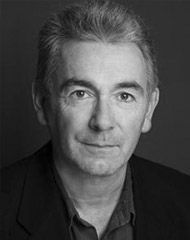 Owen Aaronovitch
Pew
For the New Vic: Eric The Epic, The Hunchback Of Notre Dame, The Plough & The Stars.
Theatre credits include: Flatspin, Gameplan, Roleplay (Pitlochry Festival Theatre); This Happy Breed (Pitlochry Festival Theatre/Yvonne Arnaud); Crackers (Belgrade Theatre, Coventry); Casualties (Mad Dogs Theatre Company); Breaking The Silence (Nottingham Playhouse); Moby Dick (Compass Theatre); Pinocchio (MCN Productions); Robin Hood (Gardner Centre); Dick Whittington (New Elgiva Theatre); Casualties/Killing Camilla (Mad Dogs Theatre Company); The Ladykillers (CV Productions); Aladdin (Stafford Gatehouse); The Great Gatsby (American Drama Group); Red Dust, Blue Dreams (Public Parts); The Grapes Of Wrath (Sheffield Crucible Theatre); The Waltz (West Yorkshire Playhouse); The Secret Agent (Dr Fosters Theatre Co); The Murder Of Sherlock Holmes (TNT Theatre); Dr Sullivan & Mr Gilbert (Mull Little Theatre); Nobodies Children (Sheffield Crucible); A View From The Bridge (Sheffield Crucible); Dream Topping (The Belgrade Coventry).
Television credits include: The Tudors IV (SW Productions Ltd); Doctors, Holby City (BBC Television); Court Room (Mersey Television); Coronation Street, Cracker III, Medics (Granada Television); Alarmed (Chameleon/Yorkshire Television); Heartbeat, Emmerdale (Yorkshire TV); Strange But True (LWT); The Bill (Thames Television); Out Of Sight (Carlton Television); A Touch Of Frost (Yorkshire TV).