Spotlight On: David Sunnuck, Front-of-House and Visitor Services Manager
7th May 2020
This week we put the 'Spotlight On' somebody you'll often see around the New Vic building (when we're open), just not on stage… it's our Front-of-House and Visitor Services Manager David Sunnuck! In the below Q&A, we chat to David about how he started his career in stage management, before moving front-of-house, and his cameo role as an alien in a production of The Magic Flute…
What does your job involve?
It's a varied role that encompasses a lot of the theatre's operational needs. I'm responsible for different teams, from Housekeeping who open the building up in the morning, all the way to our Theatre Premises Wardens who lock up at night. My duties range from waste collection and disposal, through to duty managing at performances and events (on the more glamorous and exciting end of the scale!) One of my key responsibilities is customer care. I'm lucky to work with people who understand the importance of ensuring our visitors are safe and well looked after, and really uphold the New Vic's values. We are also supported by a team of around 100 Front-of-House volunteers.
What would a typical day (out of lockdown) look like for you?
You come in to work with a plan of what you'll spend your day doing and then something unexpected always comes up! Despite having a large team I spend a large portion of time working alone, dealing with departmental admin and responding to customer emails. Many of the jobs are routine but there is always an element of unpredictability (it is live theatre after all) so being flexible and adaptable is important. This is particularly important when you are duty managing on a performance because you are responsible for the welfare of the whole audience as well as your team.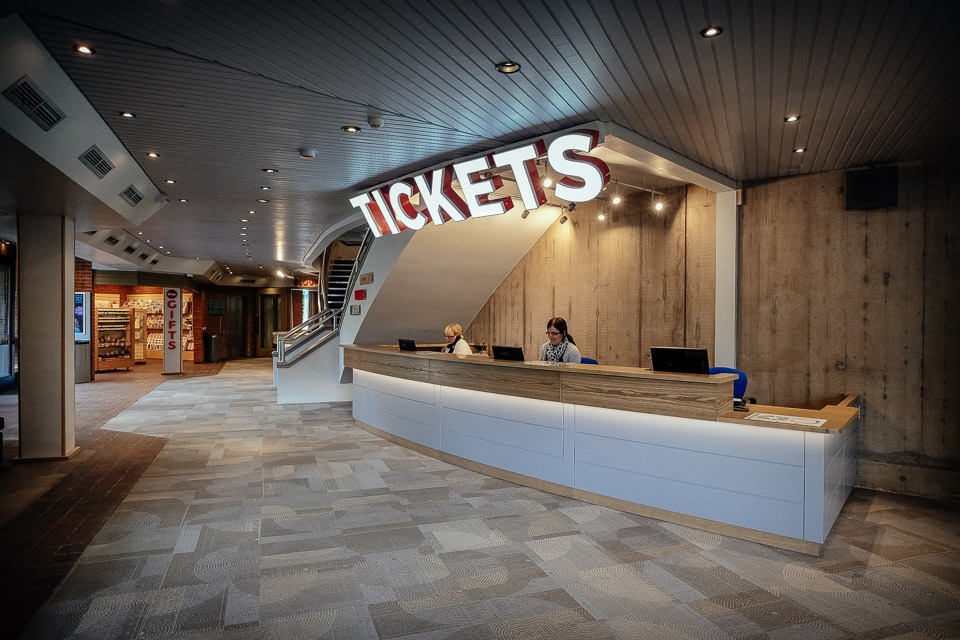 What background and training do you have, that led to your current role?
I knew from quite an early age that I wanted to work in theatre, but certainly not onstage! I was always curious about what goes on backstage, and how the magic is created. I got my lucky break at college when the local theatre's Stage Manager came to give some lectures. He spotted something in me and I was offered a massive opportunity to work as a Stage Management Trainee in a professional theatre for a year.
After that I formally trained at LAMDA in Stage Management and Technical Theatre and worked continuously in Stage Management for several years, including at the New Vic. My current role became available at the same time I was looking for a new challenge. I managed to convince the New Vic management at the time that my skills were transferable and they agreed to give me a go. The rest is history.
What's been your proudest moment at the New Vic?
Winning the Most Welcoming Theatre award, and our volunteers being awarded the Queen's Award for Voluntary Service are my proudest moments. In terms of career highlights, it is hard to beat a cameo role as an alien in a production of The Magic Flute, described by director Chris Monks as 'the Brad Pitt of the alien word'.
Tell us something that people wouldn't expect about your job…
I'm actually also one of the New Vic's Stagetext trained captioners, helping to give those who are deaf or hard of hearing a better theatre experience.
How has your job changed in lockdown and what are your working days like now?
A lot of my work normally involves planning for, and staffing, performances. Obviously that can't be done currently but there is still plenty of work I can do from home and the planning skills are being utilised in a different way. I am one of the few lucky ones that still get to go to the New Vic. While we've been closed, a couple of staff members have been making daily visits to check the building inside and out. We're still having regular virtual meetings with members of our teams. It's a chance to look at those projects that have sat on the to-do list for a while! We're also doing what we can to support our volunteers and are keeping in touch with them with weekly updates.
How are you keeping yourself happy in lockdown?
It's a chance to get some jobs done at home. I love a DIY project so having a bit of time to spend on this is something I find rewarding and relaxing. That said, my kids don't allow me much quiet time to myself, so I probably won't get far!
Our closest family members are spread out all over the country so we've started having a weekly Facetime Family quiz too. It is good fun and a nice way to get together and stay in touch. Interesting fact: one of last week's questions was 'what's my job title?'. Not one of my family got it right!