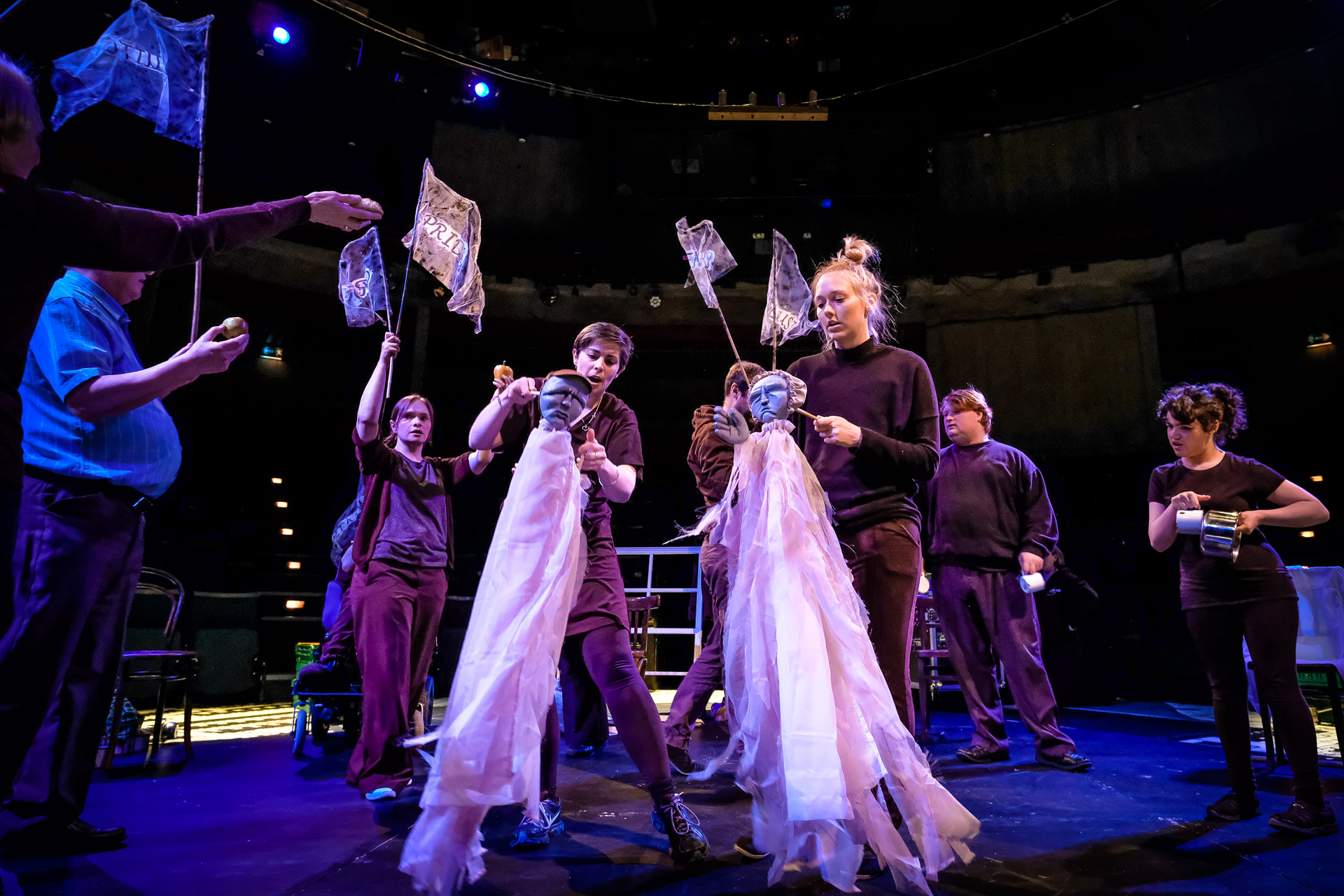 Productions/Resources
24th October 2018
'Don't shoot the messenger': Power, Agency and Ethics in Translation and Interpreting Work
10am – 4.00pm
This interactive workshop is designed and hosted by the New Vic Borderlines as part of an Arts and Humanities Research Council funded project, Translation and Interpretation Work in Multilingual Business Communities: Roles, Perspectives, Agency which investigates how language and translation matter in international, multilingual contexts. The workshop is based on a mixture of methods, including academic inputs, performed stories and facilitated discussions. The purpose is to understand and explore what it means to live and work in multilingual, multicultural and often highly political and unstable environments, where having 'voice', being able to communicate and to exchange knowledge and wisdom cannot be taken for granted. The workshop is of interest to academics and scholars; policy and decision makers; translators and interpreters; anyone who has – voluntarily or enforced – lived and worked in ambiguous, shifting and complex contexts where 'languages and translation matter'.
A performance entitled 'Don't Shoot the Messenger' will form part of the conference and will feature documentary stories of the importance of translation and interpretation. This will be performed by community members
To book tickets, please follow this link https://www.eventbrite.co.uk/e/dont-shoot-the-messenger-tickets-50440528980?aff=ebdshpsearchautocomplete
For more information contact Adhia Mahmood – amahmood@newvictheatre.org.uk – 01782 381368
A Sigh of the Coal – Touring 12th Nov – 17th Nov 2018
On Saturday, 12 January 1918, 248 men were working underground when a huge explosion tore apart the Bullhurst and Banbury Seams. Within minutes 155 men and boys died from the effects of the explosion.War poet. Wilfred Owen, was recovering from shell shock in Scotland when he heard of the disaster he  wrote the Poem 'Miners' in response to news.
'A Sigh of the Coal' is told through the eyes of Nancy Tipper a young girl from Halmer End at the time of the Minnie Pit disaster, who is looking for her missing father, she meets Wilfred Owen, and the play is about their imagined conversations.
The play is part of Miners a Heritage Lottery project exploring the Minnie Pit Disaster and WW1 poet Wilfred Owen. The performance is approximately 30 minute's long and will be followed by an interactive poetry writing workshop where young people chose a favourite line from the poem Miners and write a new piece in response to the Minnie Pit Disaster, WW1 and the play they have just seen. Some of these poems will be featured on New Vic Website and Minnie Pit Commemoration page
It's part of a series of events that have been taking place marking 100 years since the disaster.
If you would like the performance to come to your school or community centre please contact us.