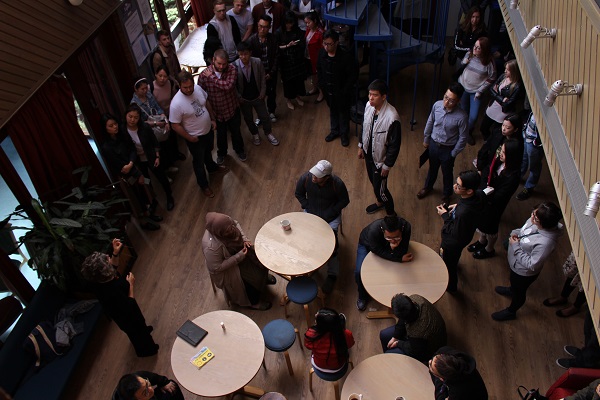 Conferences and Training
Creative conferences and training
New Vic Borderlines designs, develops and delivers creative conferences and training. These are events that make a real difference. Key benefits include:
achieving meaningful consultation with service users;
improving customer/client relationships;
effective team-building and personal development;
achieving organisational change.
"The Work of New Vic Borderlines is outstanding"
Chair, Citizenship Foundation
We work, regionally, nationally and internationally with HR professionals and those responsible for training and organisational development in voluntary and statutory agencies and in business.
Here is an example of one of our past conferences:
'Don't shoot the messenger': Power, Agency and Ethics in Translation and Interpreting Work
24 October 2018
10am – 4.00pm
New Vic Theatre, Etruria Road, Newcastle under Lyme ST5 0JG
This interactive workshop is designed and hosted by the New Vic Borderlines as part of an Arts and Humanities Research Council funded project, Translation and Interpretation Work in Multilingual Business Communities: Roles, Perspectives, Agency which investigates how language and translation matter in international, multilingual contexts. The workshop is based on a mixture of methods, including academic inputs, performed stories and facilitated discussions. The purpose is to understand and explore what it means to live and work in multilingual, multicultural and often highly political and unstable environments, where having 'voice', being able to communicate and to exchange knowledge and wisdom cannot be taken for granted. The workshop is of interest to academics and scholars; policy and decision makers; translators and interpreters; anyone who has – voluntarily or enforced – lived and worked in ambiguous, shifting and complex contexts where 'languages and translation matter'.
A performance entitled 'Don't Shoot the Messenger' will form part of the conference and will feature documentary stories of the importance of translation and interpretation. This will be performed by community members
The workshop is hosted by Sue Moffat (Director New Vic Borderlines), Ayad Mosab (a professional interpreter and former asylum seeker) and Susanne Tietze (Principal Investigator of the AHRC project).
Attendance is free and lunch and coffee will be provided.
Programme
10:30 – 11.00: Arrival Coffee and Playful Provocations
11:00 – 12: 30: A Multilingual Welcome and Stories of Translation
'Don't Shoot the Messenger' Documentary Theatre performance portraying the precarious experiences of Translation and Interpretation and the impact on the lives of individuals. Followed by and interactive discussion about the issues raised.
12.30 – 1.30: Networking lunch
1:30 – 15:00: Group work: Designing research projects/questions on the themes raised in the morning session. Identifying research bodies, potential HEI collaborations and community partners
15:00 – 16:00: Presenting research project/question. Next Steps
To book please got to https://www.eventbrite.co.uk/e/dont-shoot-the-messenger-tickets-50440528980
To discuss any ideas with New Vic Borderlines contact Adhia Mahmood:
tel: 01782 381368
email: amahmood@newvictheatre.org.uk.