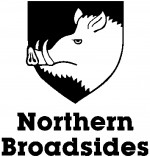 By William Shakespeare
Directed by Laurie Sansom
This New Vic and Northern Broadsides co-production brings a bold, refreshing style to Shakespeare's most musical and much-loved comedy.
In a stylish but stifling court, where the Duke is all powerful and brute strength is championed over basic human decency, the high-spirited Rosalind and devoted cousin Celia are no longer welcome. When they escape into the forest in disguise, they bump into the recent object of Rosalind's affection, Orlando, leading to an elaborate game of fluid identity where all the world's a stage and all the men and women merely players.
As the seasons change in this magical place, normal roles dissolve and assumptions are turned on their head in a celebration of the transformative power of love and the natural world, featuring some of Shakespeare's most vivid characters and memorable poetry.
With a cast of 12 fabulous Northern actors and directed by Laurie Sansom this wonderful play captures the sheer joy of live performance and the crazy power of love to change the world.
This performance contains haze and a flashing lights sequence (there is no use of strobe lighting).
Age guidance: 12+.
Socially-distanced performances
Tuesday 15 Feb 7.30pm
Thursday 17 Feb 2.15pm
See more & save with our 2 Plays for £45.00 offer
Approx running time:
Evening performances:
7.30pm – 9.00pm
interval 20 minutes
9.20pm – 10.30pm
Matinee performances:
2.15pm – 3.45pm
Interval 20 minutes
4.05pm – 5.15pm
Please click here to listen to the Audio Described introduction for As You Like It