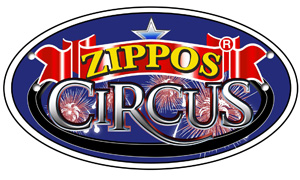 Zippos Circus is back on the road in 2018 with a nationwide Big Top tour – "LEGACY" celebrating the 250th anniversary of the circus.
Expect a spectacle like no other as extraordinary equestrians, astonishing acrobats, comic clowns and dashing daredevils join together in the ring to pay homage to Englishman and charismatic impresario, Philip Astley who invented the worldwide sensation that is circus in 1768.
The electrifying cast will also introduce timeless comics Totti and Charlotte, Brazilian Capoeira comic acrobat Paulo Dos Santos, Daredevil Pablo performing atop a dazzling Space Rocket, Cuban acrobats the Hermansito Troupe, footjuggling from Romy, and Alex Michael who walks upside down 30 feet high.
LEGACY will be presented by the world's most famous Ringmaster, Norman Barrett, MBE, who will also welcome back his colourful fun-loving budgies, a perennial hit amongst children and adults alike.
Fittingly, Zippos Circus are coming to Astley's home-town of Newcastle-under-Lyme as part of their tour and will be performing at Hampton's Circus Field, Keele Road, Newcastle-under-Lyme ST5 5AA  for 4 DAYS ONLY from Thursday 31st May – Sunday 3rd June.
PREVIEW: Thursday 31 May.
Ringside: £10.50*
Grandstand: £7.50*
All other performances: Tickets: £9.00 – £26.00*
Zippos Circus will be holding an Open House on Friday 1 June between 11am-12pm.
Visitors are able to see animals in their quarters, and their trainers will be on hand to answer questions.
Admission is free, visitors are asked to register in advance via the email link below.
Visitors should come to the circus ticket office on arrival.
Admission is at the discretion of the circus management.
There is no age restriction, but children (under 14 years) are only admitted under the supervision of a responsible adult.
Please register by emailing opendoor@zippos.co.uk with your venue in the subject line
Performance may include bright or flashing lighting, non-particle smoke effects, loud sound-effects
Duration approx. two hours including an interval of approx. 15 mins.
Light refreshments and circus souvenirs on sale
Zippos Circus reserve the right to vary the content of the performance at any time.
Doors generally open one hour before show time
*£1 transaction fee per ticket if booked online