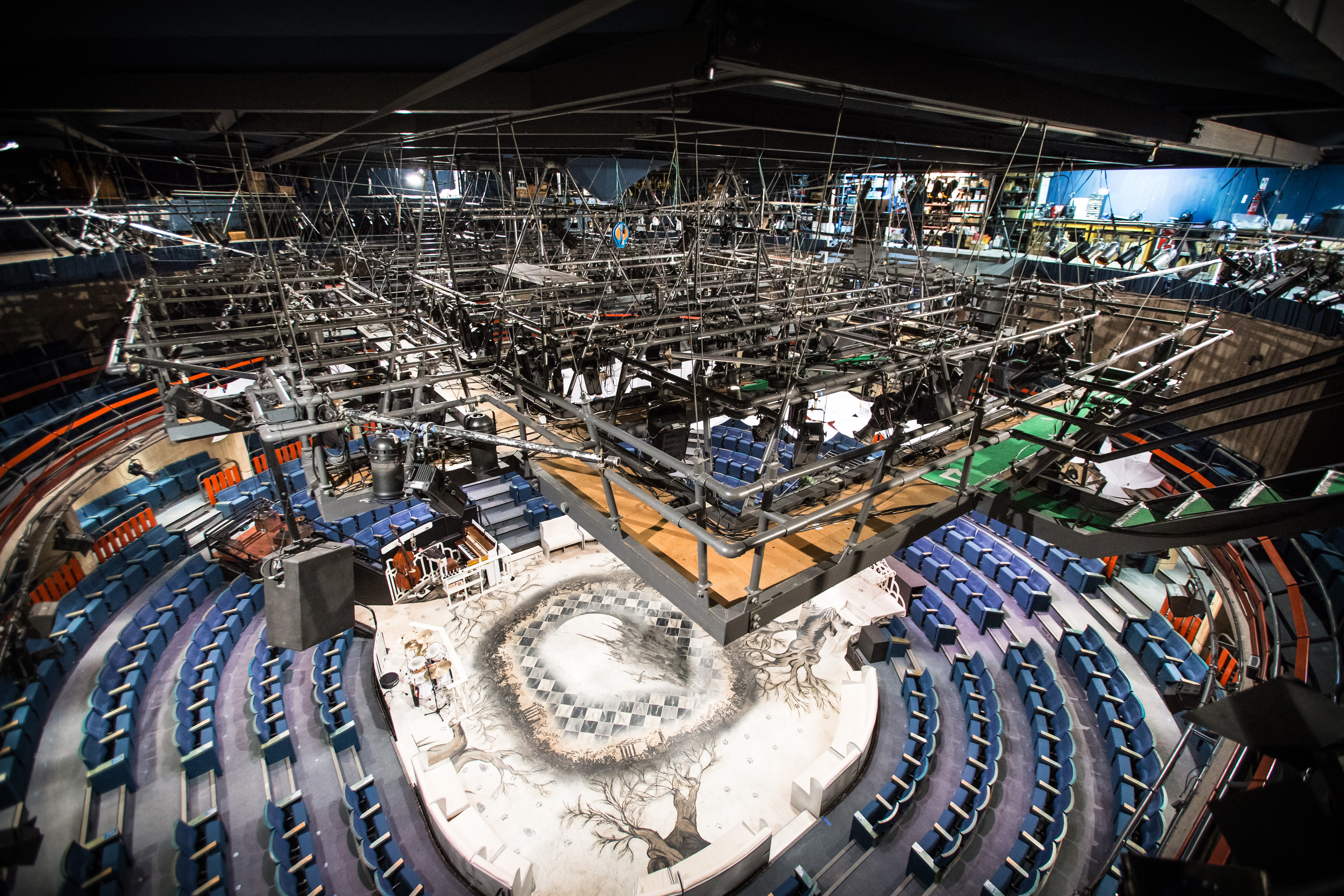 Theatre-in-the-Round
'Theatre-in-the-round' or 'arena' theatre is a theatre space in which the audience surrounds the acting area.
It was common in ancient theatre, particularly that of Greece and Rome but was not widely adopted again until the second half of the 20th century, initially in the United States.
In-the-round productions are known to have been staged at American universities around the time of WW1 and, in 1924, Gilmore Brown founded the Fair-Oaks Playbox, a company which played in-the-round, in Pasadena, California. In 1940, The Glenn Hughes Penthouse Theatre in Seattle, Washington became the first purpose-built theatre-in-the-round.
"Theatre-in-the-round demands fast action, movement and sincere performances from the actors. It is exciting and real. It is theatre in 3D."  Stephen Joseph
Stephen Joseph, a young theatre-pioneer, was the first to popularise the form in Britain. In the 1950s, concerned by the decline in theatre audiences in the face of competition from television and other mass entertainment, he felt that theatre-in-the-round could re-vitalise theatre and attract new, younger audiences.
In 1955, he formed the Studio Theatre Company, the first in the country to work in-the-round. Their home was the Library Theatre in Scarborough where they presented summer seasons of new writing and classic drama. In the winter months, they toured to towns without theatres, one of which was Newcastle-under-Lyme where, for two months, a temporary theatre-in-the-round was operated in the town's Civic Hall.
The local council was eager to find them a permanent home in the town, but the plans never came to fruition. Nonetheless, in October 1962, a converted cinema opened in nearby Stoke-on-Trent as the Victoria Theatre.
Peter Cheeseman was made the Director of the Victoria Theatre which was to develop an international reputation for verbatim theatre and musical documentaries. In 1986, the dream of a purpose-built theatre-in-the-round was finally realised with the opening of the New Vic Theatre in Newcastle-under-Lyme.
The Studio Theatre Company continued to perform in Scarborough and, eventually, found a permanent home in yet another converted cinema, the Stephen Joseph Theatre, which opened in 1996.
Stephen Joseph's influence on British theatre has been profound. Not only are the two theatres he founded still flourishing today, other in-the-round theatres were established: The Royal Exchange Theatre in Manchester; The Orange Tree Theatre in Richmond; and the Octagon Theatre, Bolton, among them.