Donate to 'Gift a Ticket' & share your love of the New Vic with someone who could not otherwise attend a show or participatory session.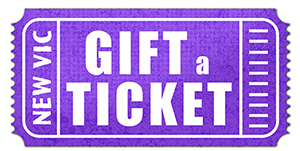 With your support we can go on creating homegrown work with our own unique productions. Community and education work reaches the most vulnerable and marginalised children, young people and adults in our area, raising aspirations and expectation in people's lives, as well as bringing the gift of the arts to their lives.

£14 will provide a child with an opportunity to join their school trip to experience our magical Christmas show this year.

£50 could help us welcome 5 pre-school children with life-limiting illnesses to a fully accessible Tale Trail performance.

£100 would help us to support a group of 4 adults living with learning disabilities and their carers to have a wonderful theatre experience.