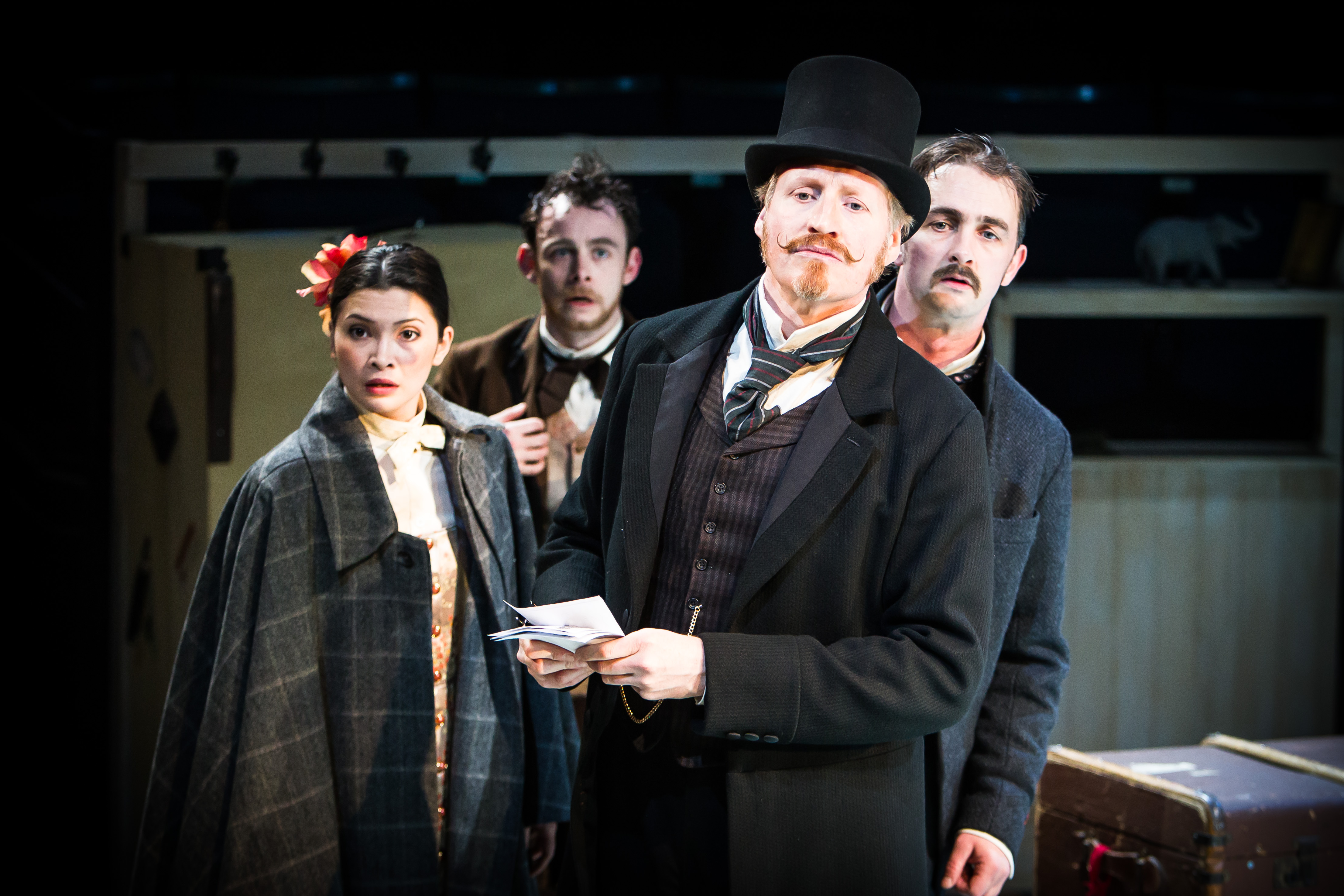 Tickets Info & Concessions
Tickets Info
We want the New Vic's world-class theatre-in-the-round to be great value for our audiences, so we offer a range of concessions and season packages and our friendly Box Office will always advise on the best value option for you.
Chat to our Box Office:
Tel: 01782 717962
Email: tickets@newvictheatre.org.uk.
Concessions and Discounts
Tickets for a Tenner
Be one of the first to see the show – get tickets for just £10.00 on the following performances
Do I Love You?
Tue 30 January 7.30pm
A Leap In The Dark
Fri 9 February 7.30pm
Tue 13 February 7.30pm
Ladies Down Under
Fri 8 March 7.30pm
Tue 12 March 7.30pm
Children (under 16), full-time students and over 65s:
We offer a discount of £2.00 off the top two price bands on selected performances Mon – Fri (Mon & Tue performances for Eric's Pride and Prejudice)

Individuals in receipt of Universal Credit:
£2.00 tickets for Monday and Tuesday performances of New Vic productions (max two tickets per person, per production).*
Disabled tickets:
For plays; £20.00 for matiness; £20.50 Monday to Thursday; £22.00 Fridays; £24.00 Saturdays.
The Nutcracker: A Christmas Fairytale: Mon – Fri Blue performances £21.50; Mon – Fri Purple performances £24.00.
Eric's Pride and Prejudice: Mon & Tues £21.00; Wed & Thu £23.00; Fri & Sat £24.50
For all other events, tickets are the lowest advertised price minus a £2.00 concession (if available). Companion ticket is the lowest advertised price (less concession if eligible) per disabled patron.
Free Companion tickets available for patrons in receipt of Disability Living Allowance, Attendance Allowance, or Personal Independence Payment.
For disabled patrons not in receipt of DLA, PIP or AA, companion tickets are available at the lowest advertised price.
Under 16 Go Free: For nominated plays and one-night events, an under-16 is admitted free with an adult paying full or concessionary price (some events have adult content, so please check when booking).
Not available for The Nutcracker: A Christmas Fairytale.
Under 26 Go Free: Up to 50 free tickets available for 16-25s on Monday to Friday performances on selected New Vic productions (£8.00 once the 50 free tickets have gone). Two tickets per booking. One pair of free tickets permitted per season. Free tickets not available online. Address and email address must be provided by booker (don't worry, we won't pass these details onto anyone else!)
Not available for The Nutcracker: A Christmas Fairytale.
Groups and Schools
View information for Groups and Schools here.
Gift Vouchers
Our gift vouchers are perfect for the theatre lovers in your life, and also a great way to support the New Vic.
You can choose how much you want to give, starting at just £5.
*Conditions: All concessionary tickets are subject to availability; only one concession per ticket; proof of status may be required; no concessions for Saturday evening performances unless otherwise stated; all sales subject to availability and at Box Office Manager's discretion. Full terms and conditions here.