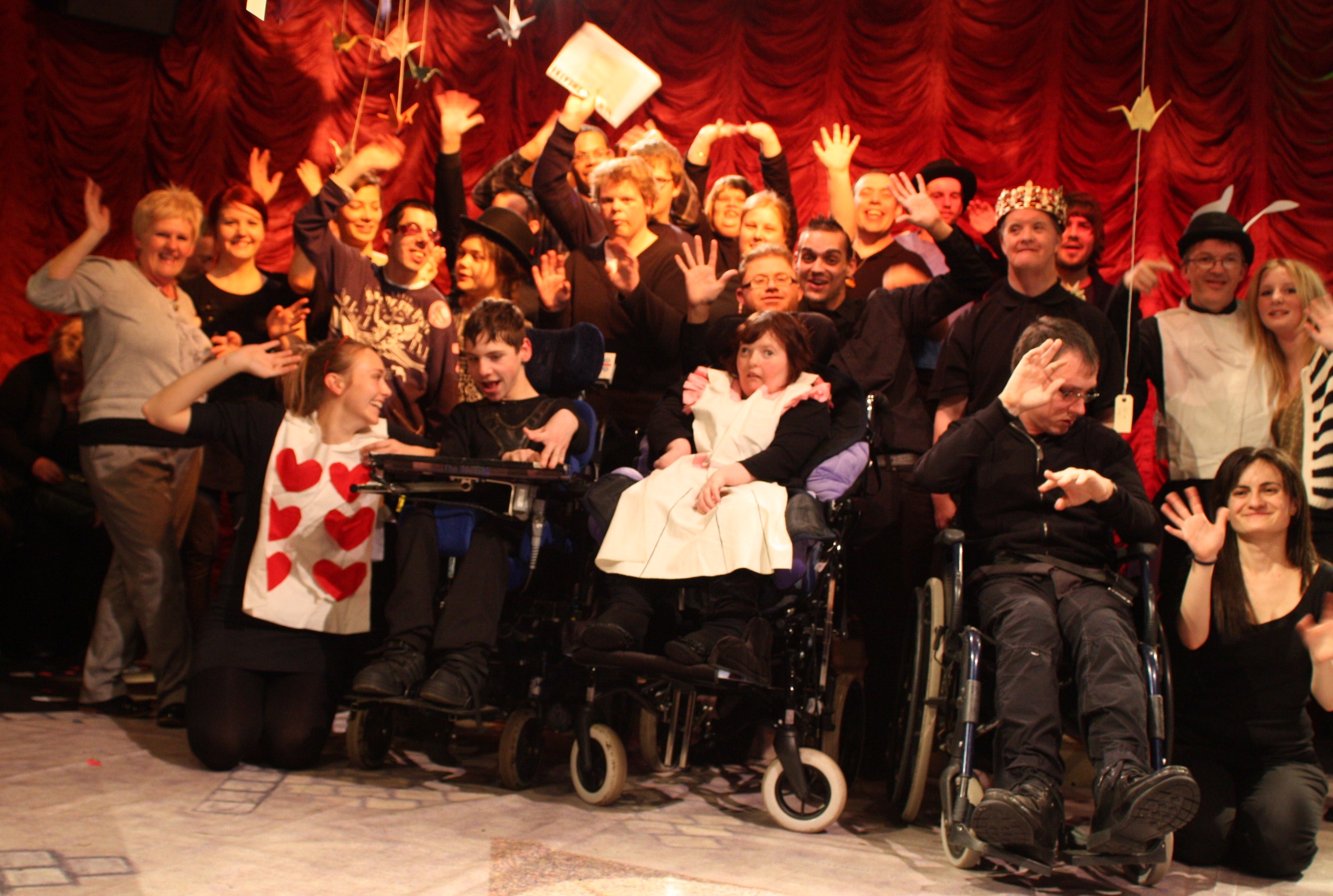 Access
The New Vic is Staffordshire's producing theatre. It is actively working to improve access. Currently, this service includes:
Getting To & Around the Theatre
The New Vic has free disabled parking for blue badge holders with 8 bookable bays close to the main entrance (please call to reserve a space) and also 3 non-reservable blue badge holder spaces on the first bay of the main car park. There is ramped access to auditorium, accessible toilets on ground and first floors of the theatre. There is wheelchair access throughout the building (with the exception of the balcony) and an accessible lift from the ground floor to the first floor accessible from the foyer.
There is a magnetic induction loop in the auditorium (not available for amplified performances), Box Office and Front of House desks and Infra-red assisted hearing system in the auditorium.
Assistance dogs 
Assistance dogs can be taken into the auditorium, but please tell the Box Office when booking your seat that you are bringing your dog. Please mention this when booking and we can allocate suitable seats. Alternatively you can leave your dog with a member of staff in the foyer and we can arrange for a bowl of water for them. Again please let us know in advance if you wish you wish us to provide this service.
Familiarisation Tours
The New Vic can also offer Familiarisation tours, which give visually impaired customers a chance to acquaint themselves with the building and its facilities. For more information, please contact the Box Office. 
The Performances and the Auditorium
We have dedicated wheelchair and accessible seats are situated on row G of the auditorium. For certain shows, we can also accommodate wheelchair users on row A.
Please note: our balcony seating is accessible by stairs only. Balcony seating is approximately 30 ft above the main stage and is not recommended for very young children and those with mobility concerns.
Captioned and audio described performances are available for all New Vic productions. BSL performances are available for New Vic Christmas Productions.
Captioned performances for all New Vic productions. Captioning is just like subtitles for films. As the actors speak, their words are shown on a screen. You can follow what is said, when it is said and by whom. Sound effects and off-stage noises are also included.
Audio described performances of all New Vic productions. Audio description is a verbal commentary that explains what is happening on the stage during the parts of the performance where there is no dialogue. The description does not interfere with the performance but fills in the gaps so that anyone with a visual impairment can follow the plot fully and independently. During the performance the trained describer sits in a soundproof booth in the theatre and their description is relayed to theatre-goers via individual headsets. This ensures that the audio description doesn't interfere with the performance for people who don't require a verbal commentary. These headsets can be collected from Box Office when you arrive. A member of box office will show you how the headsets work. For larger parties it is advisable to book these headsets in advance.
As part of the audio described service,
A free audio introduction will be emailed to you in advance of the performance, which gives details about the production including costumes, sets and individual characters.
A free Touch Tour of the set, costumes and props before the show. The times for each Touch Tour may vary, so please ask at the box office when you book. Touch tours take around 20 minutes.
An audio introduction 15 minutes before the start of the main performance.
If you or someone you know is interested in booking for an Audio-described or Captioned performance, please make this clear when you contact the Box Office. Tickets for Audio-described performances and Touch Tours must be booked at least 3 days in advance.  Tickets for Captioned performances can be booked anytime up to the start of the show.
We are in the process of updating our Audio Guide to the Venue; to reflect recent changes to the building so please check back here shortly.
Infrared hearing enhancement system
An infrared hearing Sennheiser enhancement system operates in our auditorium. The audio enhancement is available through a receiver for use in conjunction with a hearing aid, or alternatively, an in-the-ear headset. Please specify which you require at the box office. This service is free of charge. 
Booking tickets
You can book tickets by calling our Box Office on 01782 717962, in person at the Box Office, or online here  (please note certain seats and ticket types are not available online. Please fill in our online access form with any requirements you may have for tickets not available online).  Our Box Office is fully accessible, located on the ground floor to the right and opposite the main entrance. It is fitted with an induction loop. Please let us know at time of booking of any access or seating requirements you require on your visit to us. Our Sales Officers are happy to answer any queries about the New Vic, your booking and your future visit to us.
Tickets for plays:
£15.00 Mon – Thurs; £17.00 Fri and Sat; and £14.50 Sat Matinee
For all other events, tickets are lowest advertised price less £2.00 concession (if available).
A companion ticket at lowest advertised price (less concession if eligible) per disabled patron.
A free carer's ticket for patrons in receipt of Disability Living Allowance, Attendance Allowance or PIP (Personal Independence Payment). Proof of relevant benefit may be required when collecting your tickets).
Audio Access Assistants
For Audio Described performances there are trained staff members front of house who will be on hand to greet you and to ensure you have all the information you need. The access assistant will be present for your entire theatre trip.
Audio Description Performance Introductions
Here is the Audio Description Introduction to Tom, Dick and Harry:
Information
Large-print cast sheets available on request. Loan copies of play scripts available from the Box Office on request.
For further information contact Box Office on 01782 717962 or email: tickets@newvictheatre.org.uk
Hidden Disabilities Sunflower Lanyards
We understand that not all disabilities are visible and that this can make daily life more of a challenge, adding extra stress and anxiety when taking trips out, such as to the theatre. We also recognise how difficult it can be for others to understand the challenges that are faced by those with invisible disabilities day-to-day. We want to help make things easier for all our customers, whatever their situation.
We're proud to be a part of the Hidden Disabilities Sunflower Lanyard scheme. The lanyards can help you discreetly indicate to New Vic staff that you may need additional support during your visit.
Feel free to pick a lanyard up from the container on the Box Office desk.