Become a New Vic Patron
An invitation for a special relationship with your theatre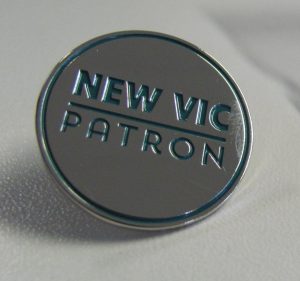 The COVID-19 pandemic has obviously had a profound impact for us all – for the New Vic, our audiences, staff, artists and actors, who rely on us for work, as well as the whole community.
During this time the regular monthly donations from New Vic Patrons have made the difference for us. Thank goodness, as we are still here today thanks to the important part our Patrons play in the ecology of the New Vic.
Now, in order to ensure the healthy future of the New Vic, we need to grow the number of patrons who regularly support the theatre. Become a Patron and help us with monthly or annual donations, through direct debits that fund our creative work, as well as community and education projects. There has never been a better or more important time to join us.
Be a part of our future… now is the time to join us
Join the New Vic Patrons today
Choose your monthly donation – the amount you give is up to you. Every penny will be put to good use straight away. We have three levels of support that you can choose from, or you can set your own amount.
Patron
For any donation up to £9.99 per month we will credit you as a New Vic Patron. This donation could be used to help maintain the New Vic's auditorium.
Patrons' Circle
For donations of £10.00 – £19.85 per month we will credit you as Patrons' Circle. Your monthly donation could help towards the cost of touring a play tackling domestic violence to youth and community groups.
Centre Stage Patron
For donations of £19.86 a month or more we will credit you as a Centre Stage Patron. A generous donation each month could cover the cost of an education practitioner leading drama sessions in local schools, focusing on children that have missed out on so much during the health crisis.
In return, we will send you the highly coveted New Vic Patron badge together with a bi-annual patron newsletter so you can read about the work your donations are supporting at the New Vic – including interviews and sneak peaks behind the scenes. We hope that you will consider joining and being part of this support for the future.
The New Vic Patrons' scheme is designed to enable people to become a key part of the theatre's future, become part of our circle of support, and ultimately, part of the New Vic recovery story.
You can donate a gift of your own amount, to do this download and complete this form and send it to us at fundraising@newvictheatre.org.uk
See our Supporter-promise