Lockdown diary – Week 14: reopening plans, theatre masterclasses for adults, and working towards a 'Zero Carbon Rugeley'
16th March 2021
Whilst the days are starting to get lighter, we know there are still challenges to overcome in all our daily lives, so from us all at the New Vic, we hope you are staying safe and well.
We are looking forward to the moment we can welcome you back to us and on that note, we couldn't be happier to announce that we'll be reopening our doors for performances from Monday 17 May, as indoor activity is able to resume.
Opening on Monday 17 May and running until Saturday 29 May, we're inviting David Graham Productions back to the New Vic with Third Time Lucky, Eric! that will see popular character Eric burst back onto the stage with a show filled with '60s tunes and comedy that is sure to help lift spirits post-lockdown. Our Box Office team are in the process of contacting customers who have tickets for this production, so if you are an existing ticket holder, you don't need to do anything – we'll be in touch shortly.
We'll be announcing more details of the New Vic's programme of work very soon, so keep your eyes peeled on your inbox, and on our website. And of course, while we're in the midst of planning, we continue to work on lots of brilliant projects virtually, which you can find out more about below.
Free virtual theatre skills masterclasses now open for adults
We had lots of requests earlier this year, asking if we could do workshops specifically for adults aged 18+, after we'd announced our programme for young people. After such huge interest, we are very pleased to reveal that we are hosting two free online masterclasses in March, specifically aimed at adults who want to discover more about theatre careers:
Tuesday 23 March, 5.30pm-6.30pm: What is a Deputy Stage Manager? With Deputy Stage Manager Kate Wilcock. Find out what this role involves, and even how to cue a show.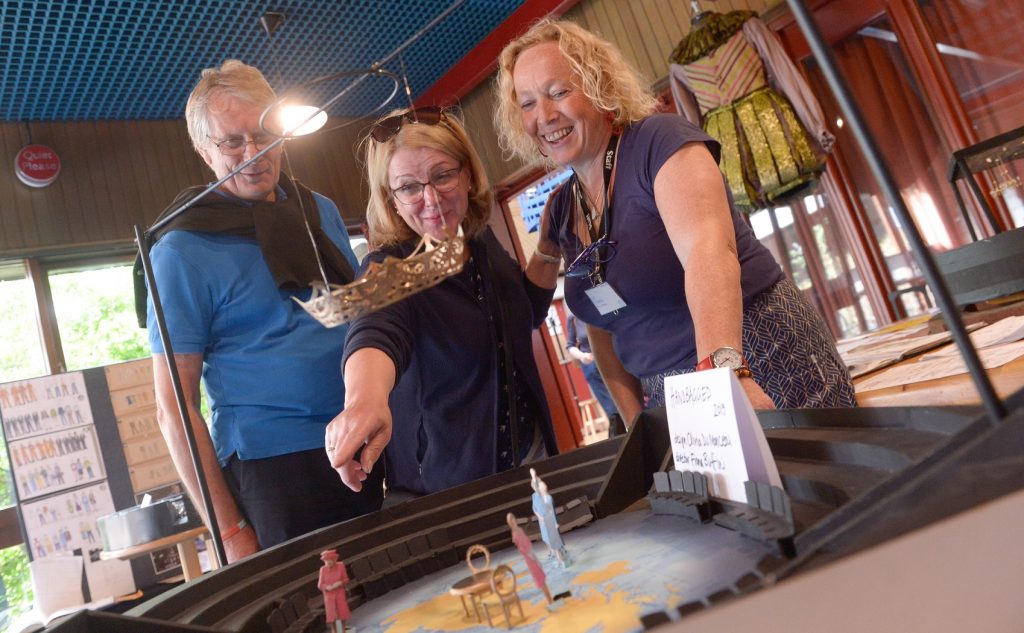 Tuesday 30th March, 5.30pm-6.30pm: Design for Theatre with Head of Design Lis Evans. Explore the entire design process from initial research to sketchbook and technical drawings, costume fittings, and more.
Both workshops are suitable for ages 18+. The link to book will be live on our website soon.
Supporting health and wellbeing through Live Age Connects live-streams

Our Education team continue their Live Age Connects programme, funded by the National Lottery Community Fund, to support people who are lonely or isolated by providing opportunities for self-expression through storytelling, music and movement. Working alongside Art Brasil, the team have been live-streaming weekly online sessions to the Grocott Centre, supporting a group of adults with additional needs. The online sessions have helped participants' health and wellbeing during this challenging time and the Education team are looking forward to the coming weeks, as sessions continue.
Working towards a 'Zero Carbon Rugeley'
One of the projects New Vic Borderlines have taken online over the past year is Zero Carbon Rugeley, a project that aims to create an innovative Smart Local Energy System design featuring the former Rugeley Power Station site. Through digital workshops, Borderlines have worked with the local community to explore what 'zero carbon' means, how transport and housing can become carbon neutral, and what things they would like to see in the future. Adam Peacock, Postdoctoral Research Associate for Zero Carbon Rugeley, said: "The team have shown a great deal of resilience and innovation in adapting their approach to the strange new online world we find ourselves in. I continue to be impressed by their capacity to break down abstract, complex concepts and get individuals to think about their relationship with energy through creative, participatory activities. They create an environment where individuals really open up about their experiences."
If you live in Rugeley and want to find out more about the project you can do so here.
Illustrated map celebrates Newcastle town centre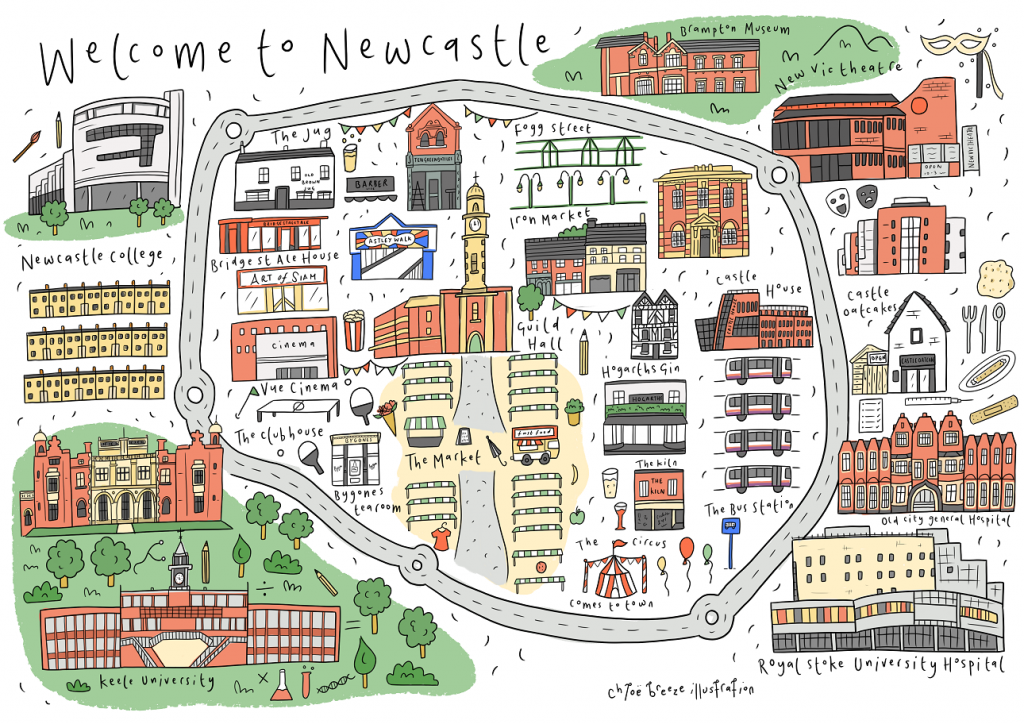 The Newcastle Map, designed by Chloe Breeze Illustration, has been commissioned by Appetite in partnership with Newcastle-under-Lyme BID, to give people a flavour of Newcastle town centre and its collection of wonderful businesses and markets. The map doesn't include every street or shop, but rather aims to encourage shoppers to seek out and explore places that they haven't visited before – when it is safe to do so. It will be built upon each year with useful and interesting information. Those visiting the town centre to do their essential shopping are being encouraged to spread the love for Newcastle by using #LoveNUL on social media.
Spotlight On… the New Vic Maintenance team!
Our maintenance team have been working hard to keep the New Vic building and grounds in tip-top condition, including all the time we have been closed to the public over the past year. We wanted to raise awareness of the fabulous job they do, so we had a chat with them about how their work has changed during lockdown, and what they are most looking forward to when we reopen…
Read the full Q&A with Maintenance Technician Mike Unwin, and Maintenance Assistant Rory Evans here.
Until next time, stay safe – we can't wait to welcome you back soon.