New Vic Theatre crowned Most Welcoming Theatre – West Midlands in the UK Theatre Awards 2018
28th September 2018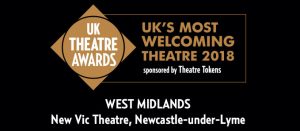 The New Vic Theatre is delighted to announce it has been named the West Midlands' Most Welcoming Theatre 2018 in this year's UK Theatre Awards.  

Part of the annual UK Theatre Awards, the Most Welcoming Theatre category is the only award that is decided via an entirely public vote.  An opportunity for audiences across the country to celebrate their local theatre, this year, a record-breaking 56,000 votes were cast by members of the public across the country.
12 regional winners have been announced today, with the New Vic winning the award in the West Midlands. An overall winner will be announced at the prestigious UK Theatre Awards ceremony at London's Guildhall on Sunday 14 October.
Fiona Wallace, New Vic Theatre Managing Director, said: "We want to say a huge thank you to everyone who voted for the New Vic. Being named the West Midlands' Most Welcoming Theatre 2018 means a lot to us. We're passionate about ensuring everyone enjoys their visits to the New Vic and this award is recognition of our hardworking staff and volunteers who strive to ensure our visitors have the best experience possible."
Cassie Chadderton, Head of UK Theatre, said: "It is fantastic to see a record-breaking number of people all over the country casting votes in support of their local theatres this year. This award is a chance to recognise the importance of theatres as valuable cultural hubs, and the loyalty they can inspire by creating a fantastic audience experience – from friendly front-of-house service to engaging outreach projects and imaginative, entertaining programming."
The annual UK Theatre Awards take place on Sunday 14 October where the overall title of UK's Most Welcoming Theatre will be announced.