Polly Lister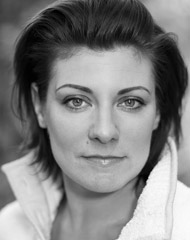 Polly Lister
Mrs Betterton
For the New Vic Theatre: The Snow Queen, The Borrowers, The Hundred and One Dalmatians, As You Like It.
At the New Vic Theatre: Di and Viv and Rose.
Theatre credits include: Great Expectations, Solace Of The Road, Cooking With Elvis (Derby Theatre); Di and Viv and Rose (Stephen Joseph Theatre Scarborough); Abigail's Party (winner of Best Performance in a Play in the UK Theatre Awards 2015), Fallen Angels, Suddenly Last Summer,  Dancing At Lughnasa, The Blue Room, Hay Fever, Keep Smiling Through, The Memory of Water, A Chorus of Disapproval, A Midsummer Night's Dream, Our Country's Good, The Recruiting Officer, Private Lives, Loot, After Miss Julie, Cinderella (Theatre By The Lake, Keswick); Jack And The Beanstalk (Harrogate Theatre); The Heretic (Library, Manchester); Much Ado About Nothing, Dangerous Corner (Theatre Royal, Bury St Edmunds); Dick Whittington, Cinderella, Snow White (Harrogate Theatre); Saint Joan (National Theatre); Transmissions (The Door, Birmingham Rep);  Sleeping Beauty, Cinderella (Roses Theatre, Tewkesbury); Dona Flor & Her Two Husbands, 147 for Dende (Lyric Hammersmith and National Tour);  Romeo & Juliet (For All Time for Heart Productions, Edinburgh);  Upside Down & Back to Front (Artworcs, Worcester); Marilyn (Musical) (Greenwich Theatre);  Nana's Nightingale (Theatre Royal, Northampton); 1984, Private Lives (Tour De Force European Tours); The Importance of Being Earnest ( Tour De Force Middle East Tour); The Rivals,  Red Skies Over The Severn (Swan Theatre, Worcester); Romeo & Juliet (The English Shakespeare Company); Macbeth (Palace Theatre, Redditch); The Warp (Old Bull Arts Centre).
Television and film credits include:  Emmerdale (ITV Yorkshire); Doctors, Casualty, Back UP  (BBC);  Lady Killers for Free (Last TV);  The Murder of Stephen Lawrence (ITV Granada); R.T.F.M. (Perfectly Polite Pictures); Large (104 Films).
Radio credits include: The Archer, Aromatherapy, Tree Splitting, The Distance Between, Lulu and Something Blue (BBC Radio 4).
Polly is also recently performed her solo show I was a wife with The Dukes Theatre Lancaster and it will tour in 2017
Polly trained at Manchester Metropolitan University School of Theatre & The National Youth Theatre.