Daniella Beattie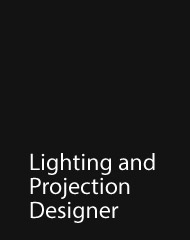 Daniella Beattie
Lighting & Projection Designer
As Resident Lighting Designer at the New Vic Theatre for over 100 productions including:
Lighting & Projection Design: Alice In Wonderland, The Killing of Sister George, Marvellous (and @sohoplace); Beauty and the Beast, Prince and the Pauper, The 39 Steps, The Strange Undoing of Prudencia Heart, Brassed Off, Much Ado About Nothing, The Wind in the Willows, Votes for Women, Pitmen Painters, Dial M for Murder, Snow Queen (UK Theatre Award: Best Show for Children and Young People); Peter Pan in Scarlet, Robin Hood and Marian, Dracula.
Lighting Design: Tom, Dick & Harry (and at Alexandra Palace), Coppelia – A Mystery, Astley's Astounding Adventures,
Table, Treasure Island, Bell, Book and Candle, The Borrowers, Ghosts, Inherit the Wind, The Hundred and One Dalmatians,
Gaslight, Stones in His Pockets and Blonde Bombshells (with Oldham Coliseum); Thrill of Love (with St James Theatre); A
Fine Bright Day Today, Alfie (co-production with Stephen Joseph Theatre and Oldham Coliseum); Far From the Madding Crowd,
Alice in Wonderland, And a Nightingale Sang, The Glass Menagerie (with Oldham Coliseum); The Admirable Crichton, Peter Pan,
Desire Under the Elms, Bleak House, Copenhagen, Alphabetical Order, The Lion, The Witch and the Wardrobe, Bouncers.
Other theatre credits include: Macbeth (Queens Theatre Hornchurch); Cyrano de Bergerac, Romeo and Juliet, and The
Tempest (Northern Broadsides); Yes Yes UCS, Ragged Trousered Philanthropist, We are the Lions Mr Manager, Dare Devil Rides
to Jarama (Townsend Productions); Man Up, Voyagers, You Are Here (Restoke); Ramshackle House (Upswing); Peter Pan, Dick
Whittington (Imagine Theatre); The Winters Tale (Staffordshire University).
Outdoor Arts: Down the Rabbit Hole (Appetite); Litten Trees (Fuel Theatre).