Laura Willstead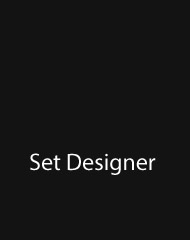 Laura Willstead
Set Designer
For the New Vic: Alice In Wonderland, Tom, Dick & Harry (and at Alexandra Palace); Beauty and The Beast, The Prince and The
Pauper, The Wind in the Willows, Astley's Astounding Adventures, Treasure Island, The Snow Queen (UK Theatre Award: Best Show
for Children and Young People); Robin Hood & Marian, Dracula, The Borrowers, The Hundred and One Dalmatians, A Christmas
Carol, Alice in Wonderland, Peter Pan, The Lion, The Witch and The Wardrobe, Great Expectations.
For New Vic Education & Borderlines: The Knotty, The Flood, Katy Clay (Education TiE Tour); All Mixed Up (Borderlines
TiE Tour); Cuba, The Government Inspector (Youth Theatre Main House); Fright Fest (Youth Opportunity).
Theatre design credits include: The Game (Northern Broadsides National Tour); Previous (Geese UK Theatre Company National Tour); Would Like to Meet (Stoke Rep); On the Home Front, Singin' in the Rain, Sticks and Stones (Reveal
Theatre Company).
Film & Television credits include: Britannic Street, BT TalkWorks promotion, BP, International Climate Control,
Manchester Mardi Gras (Ric Mellis Productions); Hollyoaks, Brookside (Mersey Television).
Laura is Head of Workshops at the New Vic Theatre.