Spotlight On: Suzy Somerville, Head of Production
28th May 2020
In this week's staff Q&A we've put the Spotlight On our Head of Production Suzy Somerville. We chat to Suzy about her fascinatingly varied career, what's currently keeping her busy, standing ovations, and homemade halloumi!
What does your role involve?
We are lucky at the New Vic to have an in-house team making our shows. I oversee all the technical and production departments at the theatre which includes Stage Management, Costume, Workshops and Technical.
I also perform the role of Production Manager on our in-house productions. This involves overseeing all elements of the production and the in-house production team, and managing the whole process of 'putting on a show' from the initial creative and design meetings, through to working with the production team to ensure the project is practical in terms of scale, schedule and budget. The production manager schedules production meetings, technical and dress rehearsals, and generally oversees the practical, financial and health and safety requirements.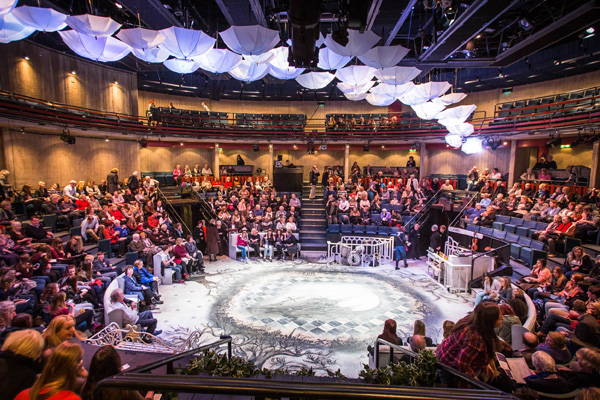 When I'm not working in the theatre auditorium, I manage the Maintenance team who are constantly busy keeping our lovely building and grounds in tip top shape.
What would a typical day entail for you?
There is no such thing! It depends where we are in the production process for the next New Vic show. I could be chairing production meetings or design presentations, popping into rehearsals to clarify points raised in rehearsal reports, overseeing a fit-up in-the-round, or be based in my office planning for the next show. Most days include a bit of both as well as checking in on the team, who are based all around the building.
What's your background and training?
I trained at the Guildhall School of Music and Drama, gaining a BA(Hons) in Stage Management and Technical Theatre. When I graduated, I knew I wanted to be a Production Manager but I believed that I couldn't do so without understanding how all the different departments work. So ensued a career which saw me as Wardrobe Mistress for Dick Whittington in a marquee at London Zoo; in the lighting department at Sadler's Wells; touring as a Technical Swing on The Rocky Horror Show (for some performances I had to wear full costume, make up and wig!); stage management on large-scale UK and international touring musicals, as well as open air Shakespeare, and everything in-between!
After travelling around the world a few times, the time became ripe to move onto the long-held goal of Production Management. I had an eclectic career working for companies such as Manchester International Festival, Assembly Festival at the Edinburgh Fringe, Ridiculusmus and Paper Cinema. But I moved to the Peak District about 10 years ago and so when the position came up at the New Vic I couldn't have been more excited – a busy producing venue making exciting theatre, that's near the beautiful part of the world where I live!
What's been your highlight of working at the New Vic so far?
The first show I opened (The 2019 run of The 39 Steps) gained a standing ovation on its opening night, and it is one of the greatest feelings when an audience truly loves and appreciates the work you have created.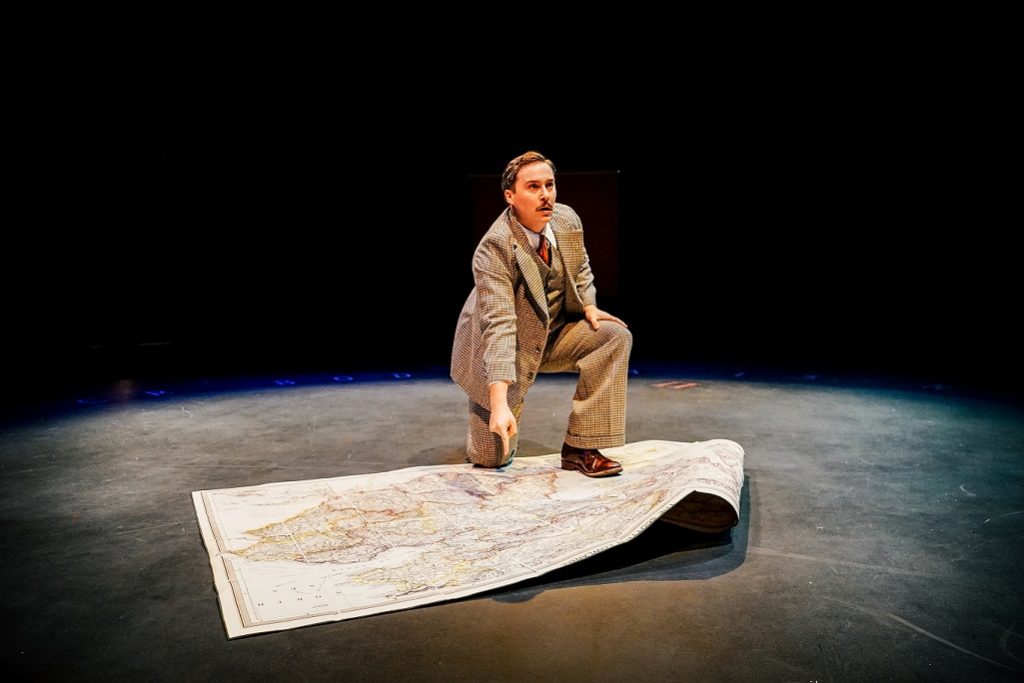 Tell us something that people wouldn't expect about your job role…
My experience in many different departments over the years means I can provide emergency cover if required; on our most recent Christmas show The Prince and the Pauper I covered the Assistant Stage Management Role with no rehearsal… I always think it's good to keep my hand in!
How has your job changed in lockdown and how are you working with your teams at the moment?
I'm doing a lot of forward planning and as my role includes being the Health and Safety Officer I've been spending time getting up to speed with Covid-19 safety measures.
I'm also on the project team for our exciting auditorium refurb which is keeping me very busy as the builders start on site very soon!
How are you keeping yourself happy in lockdown?
I've been rediscovering some old hobbies that I don't normally have time for – drumming and photography. I've also been reading, practising yoga, going on long walks and runs with the dog, and cooking new things (homemade halloumi is my latest). Having spent most of my career on the road it is really nice to have some time at home with Digger the dog and my partner who is often away working on theatre shows.