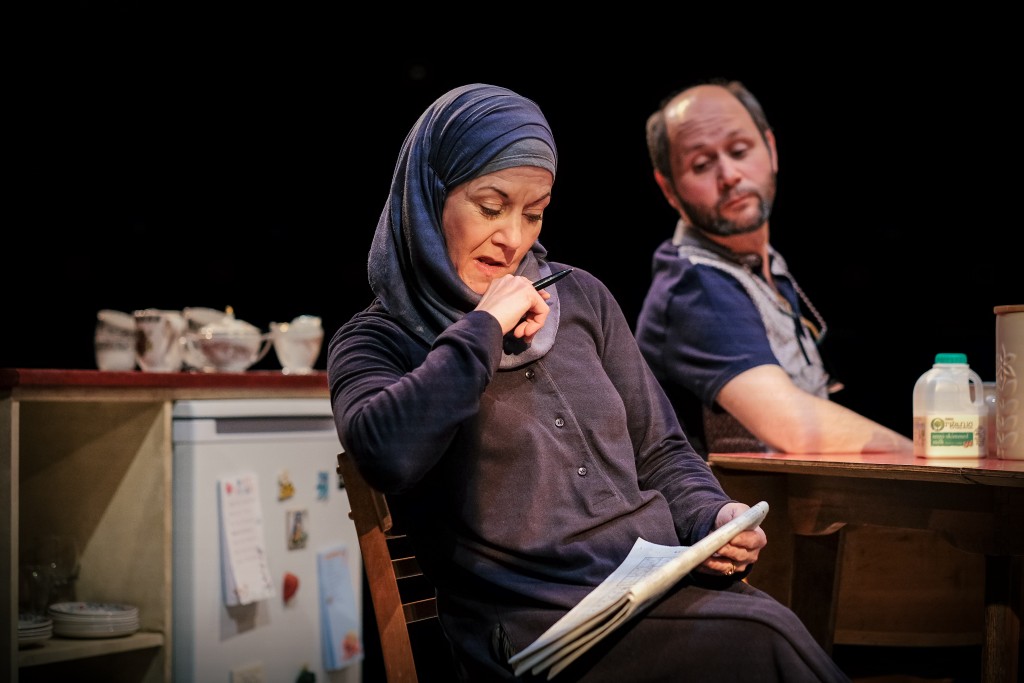 Vacancies
Listed below are all current vacancies at the New Vic. We are an equal opportunities employer. We value diversity in our workforce and positively encourage applicants from all sections of the community.
If you are interested in any of these positions, the relevant application form must be completed. In the interests of fairness, we do not consider CV's and covering letters when shortlisting candidates for interview.
The New Vic does not keep CV's on file, so please only apply based on advertised vacancies.
Head of Marketing & Communications
We are looking for an experienced and creative marketing and communications specialist to join New Vic Theatre – one of the country's most successful, regional producing theatres.
The New Vic is enjoying its greatest, sustained period of success – attracting national acclaim, growing audiences over the past five years, and reaching record numbers of people through engagement, community and education activities.
Our Head of Marketing and Communications will join the theatre's Senior Management Team, working closely with the Executive Director and Artistic Director.  The postholder will take an active part in delivering the future vision of the organisation across all strands of our activity.  Significantly, the postholder will lead the development and implementation of a new Marketing Strategy, to support our audience development and income generation goals.
The post holder will play a leading role in the theatre's strategic planning which currently includes development of our co-produced and toured work, investment in our community and education activities and supporting our Appetite audience development programme.
Have a look at our Annual Review 2015 to learn more about New Vic Theatre:
Key Duties:
• Lead the development and implementation of the New Vic's Marketing Strategy. This key project will provide clear direction for audience development, development of the New Vic brand and our marketing communications.
• Take lead responsibility for increasing the understanding of who our audiences are and what motivates them to engage with us. This will include responsibility for the development of our Audience Development Strategy and ensuring audiences are a primary consideration in all of our activities.
• Collaborate regularly with the Artistic Director and Executive Director to ensure a clear and accurate interpretation of the organisation's ethos, vision and direction.
• Lead and implement effective campaigns for sales and audience development, achieving specified revenue targets and priorities, including identifying new marketing and digital opportunities.
• Ensure that the work of the Marketing Department feeds into and supports other strategic priorities for the organisation.
Full Time – 40 Hours
Salary £35,000 – £37,500 per annum (dependent upon experience)
Download the Employment and Application Packs here:
Head of Marketing & Communication – Application & EO Form
Head of Marketing and Communication Employment Pack
Alternatively you can request both from recruitment@newvictheatre.org.uk or by calling 01782 381371.
Closing date for applications: Monday 1st August at 12 noon.
The New Vic is an equal opportunities employer. We value diversity in our workforce and positively encourage applicants from all sections of the community.
Casual Workshop Freelancers
Our workshop team are responsible for bringing to life the sets, floors, furniture and other scenic items for all New Vic productions.
During the theatre's busier periods we rely on support from experienced freelancers who contribute both to scenic artistry and prop making on a casual basis. We are pleased to say that we are now looking to expand our database of Casual Workshop Freelancers.
Typically they have a mixture of skills, including carpentry, theatre prop making and set building, interpreting design drawings, specialist painting and texturing techniques.
If you would like to join our database please download the application form here: Casual Workshop Freelancers App Form and return along with some recent pictures of your work to recruitment@newvictheatre.org.uk or by post to: New Vic Theatre, Etruria Road, Newcastle-under-Lyme, ST5 0JG.
Your details will be kept on file and you will be contacted when suitable opportunities arise.