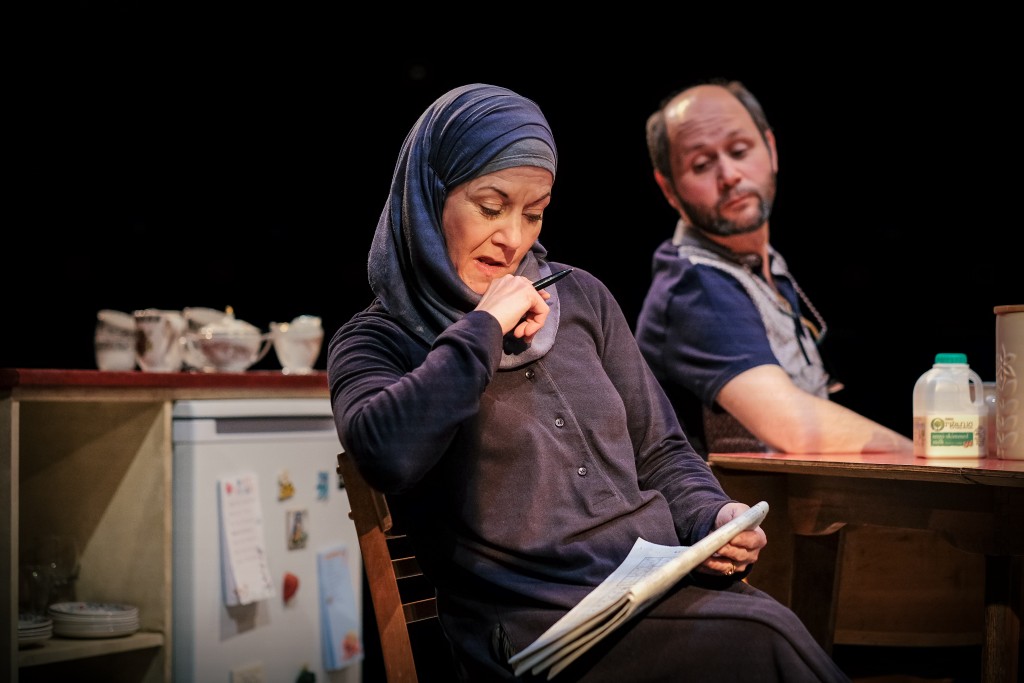 Vacancies
Listed below are all current vacancies at the New Vic. We are an equal opportunities employer. We value diversity in our workforce and positively encourage applicants from all sections of the community.
If you are interested in any of these positions, the relevant application form must be completed. In the interests of fairness, we do not consider CV's and covering letters when shortlisting candidates for interview.
The New Vic does not keep CV's on file, so please only apply based on advertised vacancies.
Current Vacancies
Appetite Creative Producer
Part-time, maternity cover from May to Dec 2017
16 hours per week Salary £31,686 pro rata (£12,674)
New Vic Theatre is looking for a Creative Producer for the Appetite programme with an excellent knowledge and understanding of the arts and outdoor arts sector to join our Senior Management Team. This is a maternity cover post for 6 months, offering a fabulous opportunity to play a key role in the planning and delivery of our artistic programme and being part of a nationally recognised arts programme. To find out more about the Appetite programme please visit www.appetitestoke.co.uk
Creative Producer role The principal purpose of the role is to support the strategy and delivery of the Appetite programme to ensure it meets its artistic and strategic ambitions in line with the Appetite business plan.
Key Responsibility Areas
Artistic programme
Reporting to the New Vic Artistic Director and Appetite Project Director, provide artistic curation and coordination across the Appetite programme, ensuring Appetite maintains and develops its role as producer, curator and presenter of high quality arts experiences
Maintain and develop the necessary partnerships with artists and various stakeholders to help create inspiring and accessible programmes that showcase the quality and diversity of arts activity across the UK and beyond.
Keep up-to-date on the wider arts and outdoor arts sector for the benefit of Appetite's programme of activities by going to see work at relevant events and festivals
Working with the Appetite Project Coordinator and Programme Manager to support contracting and negotiating with artists and arts organisations
Advocate and raise the profile of the arts in Stoke-on-Trent and the city as a whole
Attend regular team meetings to encourage peer learning and shared vision across the programme
Governance
Prepare and present regular reports on programme delivery to the Appetite consortium and New Vic Board Sub-Group
Support the Appetite Project Director to manage Appetite's community decision-making process on the artistic programme by attending monthly Supper Club meetings
Consulting with and reporting to the Consortium on the development of the artistic programme across the Appetite Programme
Finance
Where appropriate, make regular reports to the Project Director, Executive Director and the Consortium on project finances
Work with the Project Director to ensure that the programming budget and expenditure is carefully monitored and controlled.
Manage the provision of written materials, budgets, evaluations and other information as necessary to support financial accounting, evaluation and reporting
General
Undertake appropriate training as agreed with the Consortium
Actively participate in evaluation and appraisals
Work within the New Vic's established policies and practices including: equal opportunity, artistic and social policies.
Carry out any other specific tasks as may be reasonably required by the Appetite Project Director, Artistic Director or Executive Director
Person specification
The following represent the essential and desirable attributes for the post of Appetite Creative Producer (maternity cover)
Essential criteria
Experience & Qualifications
A strong track record of high quality outdoor arts and cross art-form programming and producing in a variety of settings
A track record of building effective partnerships within and outside the cultural sector with organisations at all scales
Ability to manage and develop relationships with artists (local, national and international), audiences and communities to empower the delivery of great art
Skills and knowledge
A good and up-to-date knowledge of the local, national and international arts and outdoor arts industry
Ability to develop and sustain a range of partnerships and networks
Ability to manage multiple projects to a consistently high standard
Excellent communication skills with a range of stakeholders
General
Ability to plan and organise own workload, meet deadlines and work under pressure on own initiative
Accessible and supportive to a wide range of production staff, artists and communities
An understanding of and commitment to diversity and inclusion
Willingness to work some evenings and weekends as required
Willingness to travel in the UK
Desirable criteria
Experience of targeting work to specific audiences and creating relevant programmes to suit these audiences
Experience of working with communities to co-produce events
The role will be based in Newcastle-under-Lyme but will also require some regular UK travel to see events and to meet with partners and stakeholders. It will also require weekend and evening work, particularly during the summer festival season.
To apply, download the Application Form and Job Pack or e-mail recruitment@newvictheatre.org.uk or telephone 01782 381371 to request a copy.
Deadline for receipt of applications: Tuesday 21 February 2017 at noon
Casual Workshop Freelancers
Our workshop team are responsible for bringing to life the sets, floors, furniture and other scenic items for all New Vic productions.
During the theatre's busier periods we rely on support from experienced freelancers who contribute both to scenic artistry and prop making on a casual basis. We are pleased to say that we are now looking to expand our database of Casual Workshop Freelancers.
Typically they have a mixture of skills, including carpentry, theatre prop making and set building, interpreting design drawings, specialist painting and texturing techniques.
If you would like to join our database please download the application form here: Casual Workshop Freelancers App Form and return along with some recent pictures of your work to recruitment@newvictheatre.org.uk or by post to: New Vic Theatre, Etruria Road, Newcastle-under-Lyme, ST5 0JG.
Your details will be kept on file and you will be contacted when suitable opportunities arise.
The New Vic is an equal opportunities employer. We value diversity in our workforce and positively encourage applicants from all sections of the community.