FRONTLINEdance named as New Vic Associate Artist for 2017
27th March 2017
We are delighted to announce we will be working with local dance company FRONTLINEdance as our Associate Artist for 2017 in a new drive to help support and strengthen the creative industry of North Staffordshire.
Over the next year, we will work with the Stoke-on-Trent and Staffordshire-based dance company as part of our artistic development programme, The Kiln, which nurtures the development of independent artists and companies with the aim of building on the arts sector of North Staffordshire.
The partnership will see us support FRONTLINEdance by sharing expertise from all areas of the theatre, both creative and administrative, as well as material resources including access to rehearsal and office space. Throughout the year-long programme, Associate Artist FRONTLINEdance will also share their skills and creative energies through the our cultural education programme.
Led by Artistic Director Rachael Lines, FRONTLINEdance is an integrated (disabled and non-disabled) dance company. Formed to create a more visible culturally diverse society that positively celebrates disability and older age, the company work to ensure the same access into dance exists for disabled children and young people as for their non-disabled peers. The Not for Profit dance company works with beginners and professionals, aged from three to 103.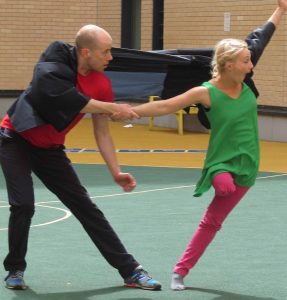 The company is currently devising new dance works and projects, whilst fundraising to continue their work for hospitals and elderly care settings, plus creating a skills development programme for emerging disabled dance artists, and a new inclusion project that will see their work performed in schools. They have also secured major grants, including from Arts Council England's Elevate fund, to support their work through to Autumn 2019. The company is currently building a new website and is keen to recruit new Board Members to join their team, building on the future vision for the organisation in the next stage of their development. Interested parties should contact the Company Development Manager, Deborah Nicklin, for a Board Recruitment pack.
Theresa Heskins, New Vic Theatre Artistic Director, said: "Our work helping to nurture and develop independent artists and companies is hugely important to us at the New Vic and we're so pleased to be working with FRONTLINEdance as Associate Artists this year. They are a company who are inspiringly inclusive and work hard to break down barriers for all people to be able to access the art. We'll work alongside their team this year to share expertise, and we're also looking forward to them sharing their creative energy with us too."
Rachael Lines, FRONTLINEdance Artistic Director, said: "The New Vic Theatre is a great resource to our area and is highly regarded – a venue we very much welcome being associated with. It will help us raise the profile of what we do, allowing more people to engage with us as participants and audiences. The office and management team at the New Vic will support our organisational development, and our project plans for 2017. We are excited to work with the New Vic Borderlines team on social impact projects too. We are very much looking forward to the new opportunities being an associate will bring."
Our artistic development programme, The Kiln, supports the development of local, independent artists and companies. Each year, we will work with a different local artist, collective or company to support their development by sharing knowledge from throughout the theatre. The programme launched last year with the first recipient being Restoke.