In conversation with Jimmy Fairhurst and Samantha Robinson – landlord and landlady in the New Vic production of Jim Cartwright's Two
27th January 2020
Two, Jim Cartwright's dark comedy, will be set in a Potteries-inspired pub complete with on-stage working bar when it is performed at the New Vic from Friday 31 January to Saturday 22 February. We chatted with cast members Jimmy Fairhurst and Samantha Robinson, the landlord and landlady respectively, about this funny and touching play ahead of its opening.
What appeals to you about Jim Cartwright's writing, and what did you think when you read Two for the first time?
Jimmy: Two was the first play I saw that made me realise that somebody from a working-class background like me could do acting as a job.
Sam: My first acting job was Jim Cartwright's play Road and when I did it I thought, 'this feels right'. I saw Two shortly after that, but this is the first time I've actually read it. It's exciting – it's become more and more appealing to me, to do things that have that working-class voice.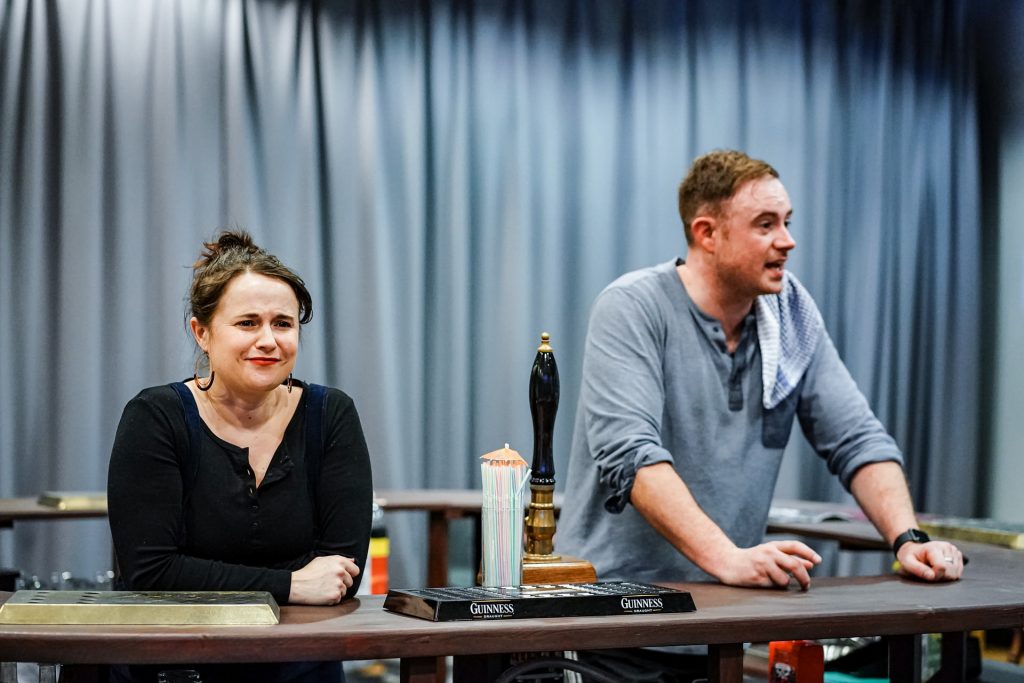 How has it been picking up the Potteries accent?
Sam: Peter Whelan's The Bright and Bold Design [about a small Potteries firm in 1930s North Staffordshire] was my final play at drama school and I had to do a Stoke accent.
Jimmy: The accent is fed by so many different sounds. My dad is from Lancashire, my mum's a Scouser, and I'm from Warrington. I think of the Stoke accent as a kind of a celebration of all of those accents coming together. I'm going to just go into Stoke pubs and listen to people. It's got a musicality to it, so it's a good storytelling accent.
Sam: It has these gorgeous vowels. There's a poetry in those working-class voices, and Jim writes those characters so beautifully. It's not just the Stoke accent in the play either, we have voices from Essex, Liverpool, Lancashire, Wolverhampton, and an 'old lady' version of the Stoke accent as well as a younger one. It's joyful getting to do them all.
And you don't just play 'two' characters do you? There's 14 in all…
Sam: Yes, we play 14 characters between us. It's not like these other characters are just popping in for a few lines either. But even if they were, you'd have to put just as much thought into it as the main characters.
Jimmy: Shoes and garments are a big thing for me. It gives you an idea of the energy the character has got. It's quite freeing getting a character to take over you a bit.
Sam: It's nice when we both change characters together as well. We both insist on changing shoes. But the character changes are challenging because we don't leave the stage throughout the play.
Jimmy: People are going to see themselves or someone they know.
Sam: I found a woman in a pub in Hanley that I've used as my inspiration for my character, Mrs Iger.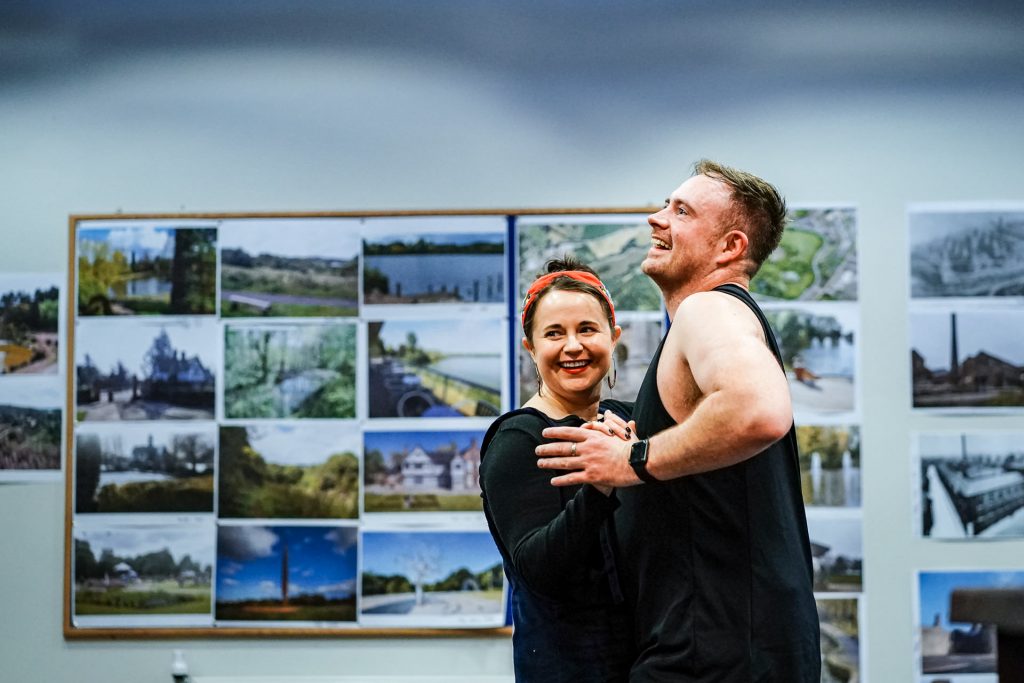 Titanic Brewery in Burslem are working with the New Vic to create a working onstage bar. Recently you learnt how to pull pints at The Greyhound pub in Newcastle in preparation for this, how did that go?
Sam: I had never pulled a pint before. I'm good at drinking them, not so much pulling them. But they pull the best pints in Stoke, so it's the perfect place for my first 'bar job', and I think I'm going to become quite the professional.
Jimmy: I've worked in bars since I was 18 and when I was 25 and working for Guinness, I had to get my publican's licence. They sent me to a hotel in Stoke for the exam. Now, I really like the idea of running a pub, and having your name above the door.
Tell us a bit about the landlord and landlady, and their relationship…
Sam: The main thing about the landlord and landlady in Two is that they've known each other since they were young. We think they had their first drink in this pub. They really love each other and are really good at their jobs. They've faced some hardship, but it's a successful pub, and they are still brilliant and funny, but a like anyone in a long term relationship, they need to reconnect with each other.
Jim: Something is broken between them, but they still get on with things. Jim understands the resilience of the human spirit. They have had to keep laughing, keep working, keep busy.
Sam: It's what the characters don't say that's most interesting of all. Jim's really good at leaving stuff out of the script as well, allowing the audience to connect in a different way. It's those quiet moments where you want to say something but to someone but can't.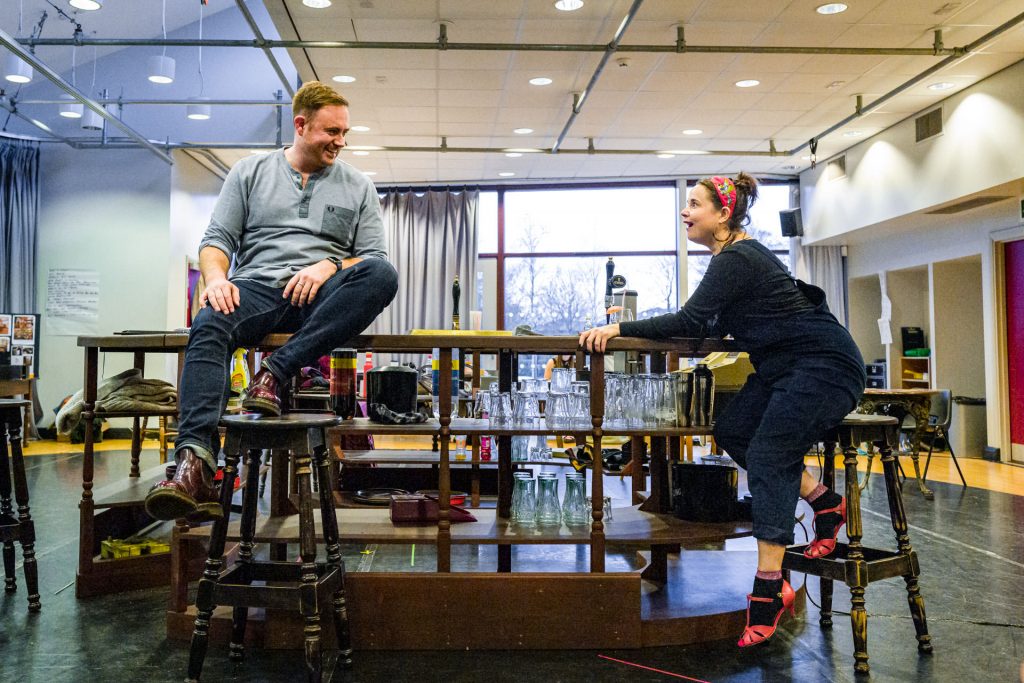 What qualities do you think Talke Pits-born Ruth Carney's direction brings to this particular production?
Jimmy: There's a real authenticity to Ruth, who is from Stoke, directing in this theatre, in this town. It's my first time working with her, but I've always wanted to. She really understands people and has a real empathy. Some directors are very academic and their work can feel safe and sterile. But with Ruth you are working with another human being. I saw her direct a third year show, Les Liaison Dangereuses, when I was in my first year at the Royal Welsh College of Music and Drama.
Sam: She's really honest and knows what she's doing. She loves actors and trusts them to do their job. She cares about the work she's making, but also doesn't do anything she doesn't want to. Stories like Two are the ones she's meant to be telling. She directs from the heart.
Jim: She knows who she's making the work for.
Sam: …and puts on a good night out.
Our local newspaper The Sentinel recently reported that that there are now almost a hundred fewer pubs in Stoke-on-Trent than there were in 2001 – a 40% decline…
Jimmy: I love a good old fashioned pub, with a snug, and sandwiches wrapped in cellophane, and a cosy fire. I think the pub in Two, it's the pub everyone goes back to. It's not so much about the drink, it's about the community. Some people, if they didn't have that hub, they'd be so lonely.
Sam: In some communities, they don't have that anymore. In some ways the pub in Two is from bygone times, but I like to think we would sell pink gin and that sort of thing.
Jimmy: The landlord and landlady are the reason the pub works. They work that room like nobody's business. They are there to serve the people.
Sam: They value every person who comes through those doors. They are always doing the patrons little favours.
Jimmy: Jim wrote the play at a time when pubs could survive before they were forced to serve food. Performing this play now, you really feel the loss of the 'pub'. Anyone can walk into a pub. I grew up sitting outside them with a bag of French Fries and a can of Coke. Everyone feels comfortable there. Long live the local!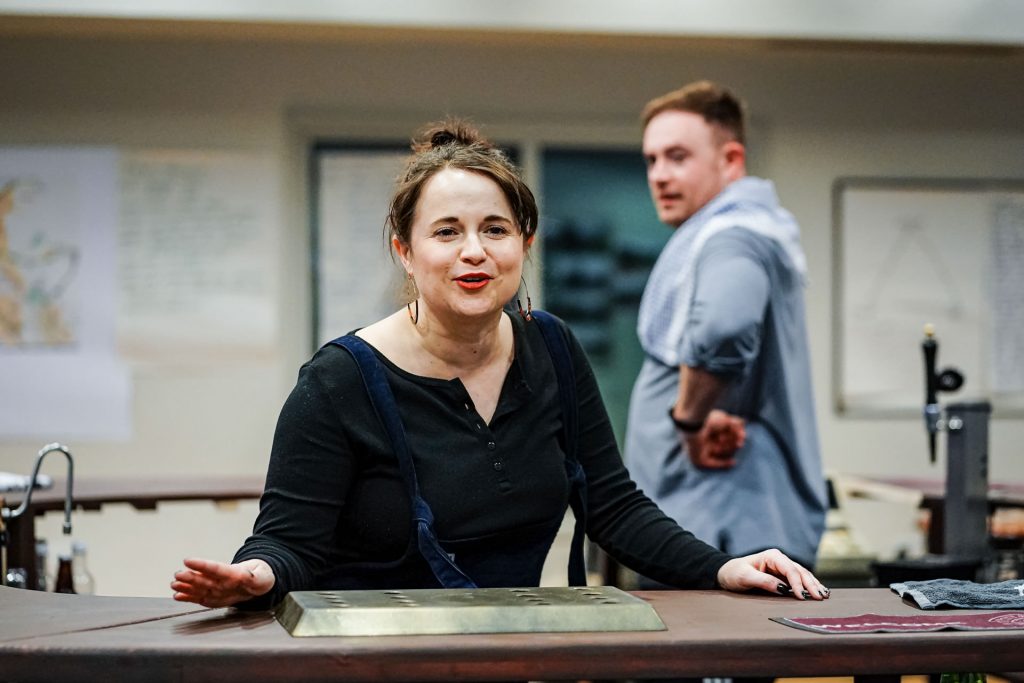 How do you think it enhances the play, the fact that the action takes place in real time?
Jimmy: You believe the characters. It gives a sense of being in a pressure cooker.
What do you think of the New Vic space?
Jimmy: I think because the New Vic is a producing theatre, in a place that is historically known for its manufacturing, that is a beautiful thing. Everybody in the building is telling that same story. You stand in the middle of the auditorium and it is grand, it feels like a little stadium.
Sam: I did my training at Rose Bruford College, and their theatre is in-the-round. So it always feels like coming home when I'm performing in that kind of venue.
Jimmy: My own theatre company, Not Too Tame, is site-specific so in a way we're always working in-the-round. That kind of space makes you honest – you can't kid anybody; you've got to go hard or go home.
And finally, what is your pub drink of choice?
Sam: It depends what day. Sometimes it'll be a gin and tonic, but not too much ice please. And it doesn't need to be a special gin or anything. I do like a white wine and soda, or a lager – but only a small one as I'm quite tiny. Or a red wine. Or rum and coke…
Jimmy: Guinness.
Two takes to the stage at the New Vic from Friday 31 January to Saturday 22 February 2020. Tickets are on sale now, priced from £15.50*, from the New Vic Theatre Box Office and can be booked by calling 01782 717962 or online here.
*£1 transaction fee per ticket applies online