Local man shares his Pitmen Painters story
29th September 2017
Since the day The Ashington Group formed, the story of the  Pitmen Painters has travelled around the world.
The group wowed Britain and the art world and Billy Elliott writer Lee Hall brought their story to an even wider audience with his stage play.
The inspiring story has particular significance to one local man.
Mining historian Jim Worgan was a key figure in helping Japanese student Yukiko Inui translate William Feaver's book on the Painters. Lee Hall's play was later also staged in Japan.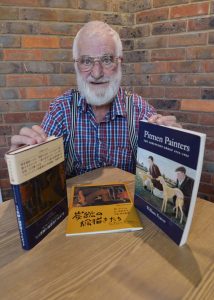 Jim Worgan said: "In 2004 I became acquainted with a Japanese student called Yukiko Inui
"She was doing a PhD on the history of collieries and was looking at photographic images of coal mining industry in the 19th century. I helped her with information. I spent 36 years in the coal mining industry in North Staffordshire and I wouldn't have swapped a second."
Jim began working in the coal industry as an admin officer in 1957 at nearby Hem Heath Colliery. He later curated the Chatterley Whitfield Coal Mining Museum and remains a font of knowledge on the mining heritage of the area.
Recounting helping Yukiko translate the book, he said: "She would call me at least twice a month," Jim said: "She would ring me from Japan and I would help her translate the colloquial English."
Jim went on to donate his fee for the translation to the Douglas Macmillan Hospice which cared for his wife, Audrey, in the final days of her life.
We are delighted to welcome Jim to see our production of The Pitmen Painters.