Lockdown diary – week five: Arts Award goes online, a virtual farewell to chef Roger, and our ghost light
18th May 2020
We really hope you are doing okay and keeping positive during these difficult times. Once again, we'd like to thank all the key workers and volunteers doing their bit to get the country through the current crisis. We will all get through this together.
In the meantime, we hope to raise your spirits a little with our latest update. This week we find out how our Education team have taken Arts Award online, say a virtual farewell to our wonderful chef Roger, and encourage you to take a virtual tour around Staffordshire! Stay safe, and we look forward to seeing you again as soon as we are able.
An update from our Artistic Director…
Being in isolation has reminded me more than ever how much I value being in the New Vic auditorium when it's vibrant with that special buzz created by a lively audience enjoying a fizzy show. I treasure those moments all the more because they're ephemeral. As indeed is pretty much everything we make in theatre. After the show has closed, the actors have cleared out their dressing rooms, and the set's been deconstructed into its component parts and stored or skipped, there's nothing left but a badly recorded video made on my phone during a quiet dress rehearsal. 'Hold on tightly, let go lightly', our friend Deborah McAndrew always reminds me when a show closes. And I do.
There is a tradition in theatre that, when a stage goes 'dark' (that's how we refer to a period when there will be no shows for a while), a light will be left burning. Very dimly; a bit like a nightlight. I'm sure there are sensible health and safety reasons why one would leave a very low light burning in a cavernous dark space which has in most venues a significant drop at the edge of a large raised area. But theatremakers are romantic people, who seek meaning and symbolism in the things we see around us. For us, this low light reminds us that the space may be dark and quiet, but it is bright with potential. It is a symbol of all shows we will make in the future and the audiences we will welcome into our special theatre. We call it a ghost light: a memory of the past, and a promise of what's to come. We left one burning when we closed the theatre in March, and we thought you might like to see this photo of it, and to think about the great theatre experiences we will be able to share together.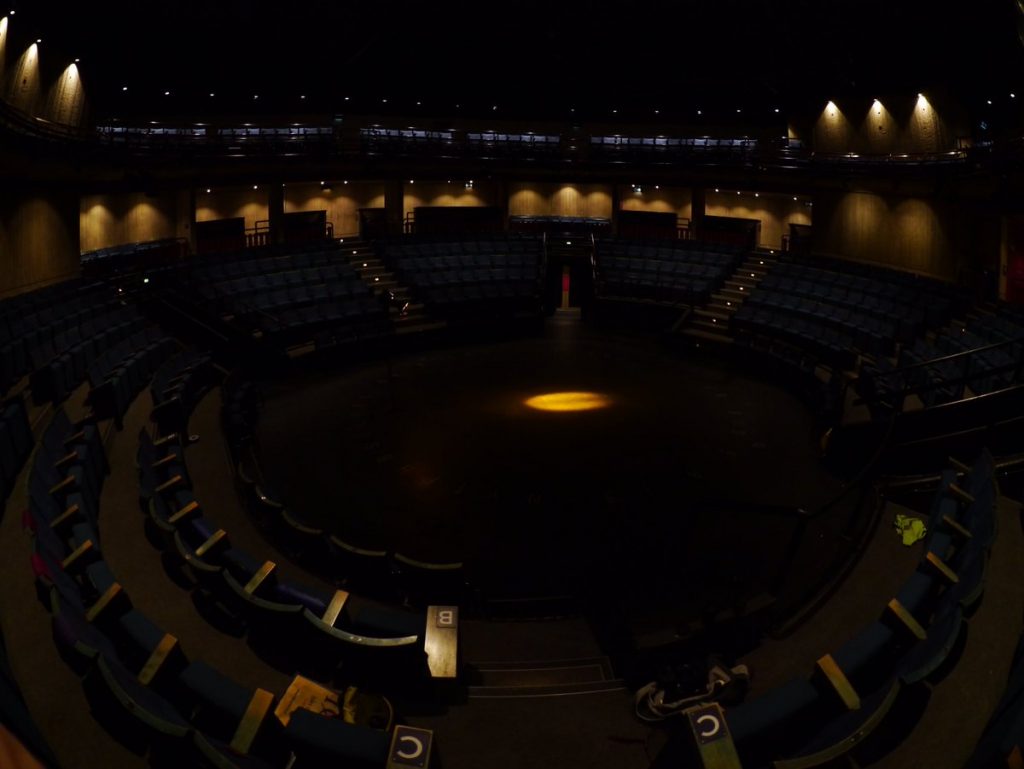 Our Arts Award goes digital!
We had a wonderful group of 13 to 16-year-olds working towards the Silver Arts Award with us before the country went into lockdown. Allowing young people to gain a wealth of experience from different theatre departments including design, prop making, sound, lighting, producing, musical and assisting directing, we didn't want the group to miss out on finishing their qualification, so we've taken it online!
The Arts Award is similar to doing a GCSE, and as many of our participants have had their exams cancelled, continuing to study the Arts Award has given them focus and structure. They have recently been working on an 'Arts Pathways' module, interviewing staff online to find out about their job and how they got into the industry. Participants are also doing their own challenges at home, guided by the Education team. One is producing a radio play, one doing a full set of costume designs, one a photography project, and another even roped his parents in to act in his self-produced short film! The project is a way of guiding some of our future artists and theatre makers into the industry and giving them a space to be young professionals, trying out new skills and honing ones they already have. It has been wonderful to see them develop over the course and for them to show their professionalism, resilience, and creativity.
"I was one of the people who couldn't do my GCSEs, and everything felt very strange and confusing. Arts Award has helped me to keep on learning and kept my writing and researching skills going. Meeting all of the different professionals and finding out about their jobs has been really fun and interesting. It's good to know that I can come out of all this with a recognised qualification, that feels positive for me."- Arts Award participant Luca, aged 16
Meanwhile, this week on our blog we put the Spotlight On the brilliant Kat Boon, Project Manager for New Vic-led arts programme Appetite, who is also doing some fantastic work to engage with the programmes regular groups during this time. Read our Q&A with her here.
A virtual farewell to Chef Roger…
Last week we wished Assistant Chef Roger Hall a 'virtual' farewell, with over 35 staff attending an online party to mark his retirement, themed around Roger's passions of fishing and cooking! Roger has been part of the New Vic's catering team for over seven years, and we know he will be missed by many of our customers. Roger, we hope you enjoy a lovely retirement – you deserve it!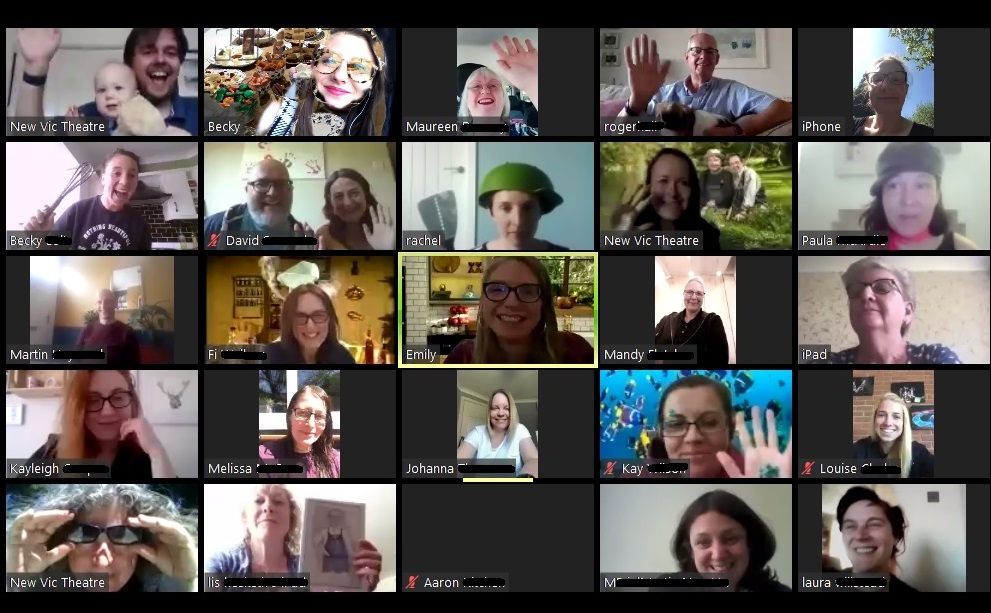 In other news…
Deputy Costume Supervisor Sarah Thorne has been busy making facemasks for friends, family and colleagues using lots of her own fabric and excess fabric from New Vic stock. If you have some spare fabric and a sewing machine, you can try making your own with this simple pattern on YouTube here.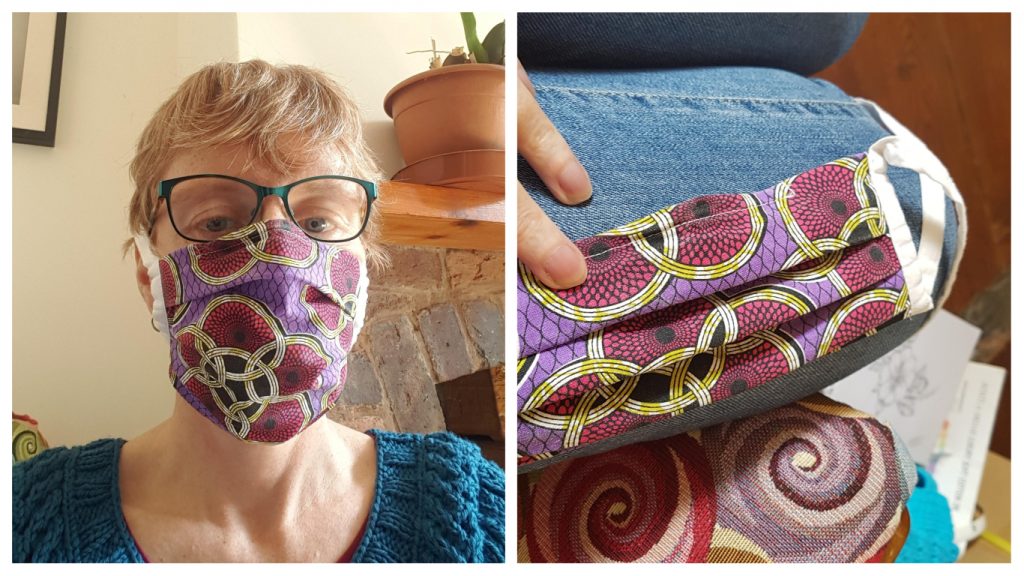 Stay positive – this week why not…
Take a 'virtual' tour of Staffordshire! There are a range of attractions around Stoke-on-Trent and Newcastle-under-Lyme that you can explore online including The Potteries Museum and Art Gallery, Gladstone Pottery Museum and Ford Green Hall. And for fans of our production of Anna of the Five Towns in 2017, there's even an interactive Google Map of Arnold Bennett's 'Five Towns'. Find them all on the Visit Stoke website here.
Until next time, we hope you stay safe. We can't wait to welcome you back 'round' the New Vic when we are open again.