Lockdown diary – week four: one year on from our Broadway debut, theatre-inspired crafts, and a virtual escape room!
11th May 2020
We hope you are all happy and healthy despite these strange and challenging times. Thank you to everyone who continues to help in the effort to get our country through this crisis. We've said it before, but we are truly so proud and in awe of key workers and volunteers during this time.
In this latest weekly update, we find out about how our Front-of-House volunteers are getting on during the lockdown and share our Education team's latest ingenious digital Youth Theatre session – a 'virtual' escape room!
Keep safe – we can't wait to welcome you back through our doors as soon as we are able.
An update from our Artistic Director…
A year ago this week, the New Vic made our Broadway debut. After a successful UK tour of Around the World in 80 Days – we even won a London Book Week prize for best adaptation from a novel – we were invited to take the show to New York and to Florida. So on May 5 2019 I landed at JFK airport, and the next day I got together my packed lunch and headed off to find the theatre. I was excited that my travel instructions took me through Times Square and onto 42nd Street. Which is where, as I turned the corner , I was stopped in my tracks by an unexpected sight: up in lights over the canopy of a theatre, right next door to Harry Potter and The Cursed Child and opposite Wicked, were the words:
Around the World in 80 Days
From the New Vic Theatre, Newcastle-under-Lyme
It was a staggering moment, and it was to be matched that week by several others, such as when a fleet of yellow school buses turned up outside the theatre; and the first audience leaping to their feet at the end of the first show; and our Florida producer taking us to celebrate in a rooftop bar overlooking a glittering Broadway; and the New York theatre industry's movers and shakers turning out to see the show after it was Critic's Pick in the New York Times (whose described Mike Hugo's Passepartout as a darling. I think New Vic audiences would agree).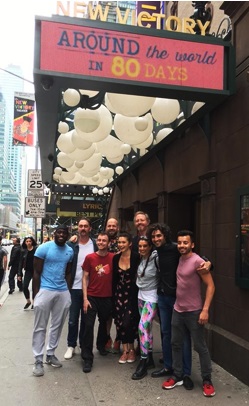 The best thing about the whole 80 Days experience, was to see audiences in Staffordshire, Manchester, Salisbury, London, New York and Florida laughing at the same jokes, clapping at the same feats, and tearing up at the same moments.
I can't wait to share experiences such as these with you again as soon as we are able to.
An update from our Front-of-House Team…
This time last year we'd just received the wonderful news that our 100-strong volunteer team were to be awarded the Queens Award for Voluntary Service. Equivalent to an MBE, it was truly deserved recognition for the dedicated support they provide to the New Vic. It's a year on from those celebrations and, for many of our volunteers, their routine involvement with the New Vic contributes positively to their own personal wellbeing so we are well aware of how significant our role is.
Many of our volunteers rely on the New Vic as a place to socialise and meet like-minded people whilst giving back to an organisation they feel passionate about. We've been circulating weekly email updates, to keep them in the loop with what's going on, including fun photos from favourite productions. Conscious of those living alone who are potentially cut-off, we also asked them to reach out if they needed support, and for those who were in a position to help, to offer their services – with us as the go-between to put people in touch with each other.
Volunteers have been sharing family news, projects they've been doing (see pictures below of some amazing crafts created by attendant Angela James), childhood photos, the progress of their facial hair… all sorts! Although we've been physically forced apart by this situation, in many ways it has been a chance to get to know some of our volunteers even better. One common theme that continues to reoccur is how much they're missing the New Vic. We miss you all too.

Talking of 'Front-of-House', this week we've shone a Spotlight On our Front-of-House and Visitor Services Manager David Sunnuck… you can read our Q&A with him here.
Creative Digital Engagements…
Our Education team are finding increasingly creative ways to engage their regular groups digitally. In their latest session, our Senior Youth Theatre tackled a virtual escape room, set by Dave Culling, the Musical Director on recent New Vic Youth Theatre production, The Changing Room. Set the challenge to 'escape' from a virtual environment, the group had to use their wit, ingenuity, and team skills to work out a variety of logic and number puzzles in order to set themselves free!
Share your love for the New Vic – support us by becoming a Patron…
Now more than ever, we need your support. If you've ever thought of becoming a Patron, why not start today? We are grateful for all donations from our generous audience members, and giving a regular monthly amount will help us to go the extra mile – to produce more of our innovative shows in-the-round, and continue the work we do within our local community which generates positive social impact.
While the New Vic prides itself on having a wide mix of income from different sources, to ensure its sustainability, because we are a registered charity we rely on the support of individuals too. We know we can bounce back once this health crisis is over, and you can play a key part. Find out more about becoming a Patron here.
In other news…
Our Head of Design Lis Evans has been sorting through old show sketchbooks and been making greetings cards to send to friends and family out of her costume drawings! Take a look at some of her designs below… can you guess what shows some of these sketches are from?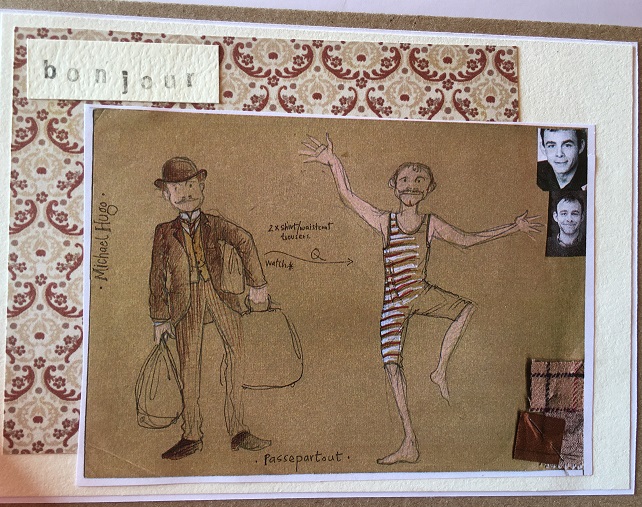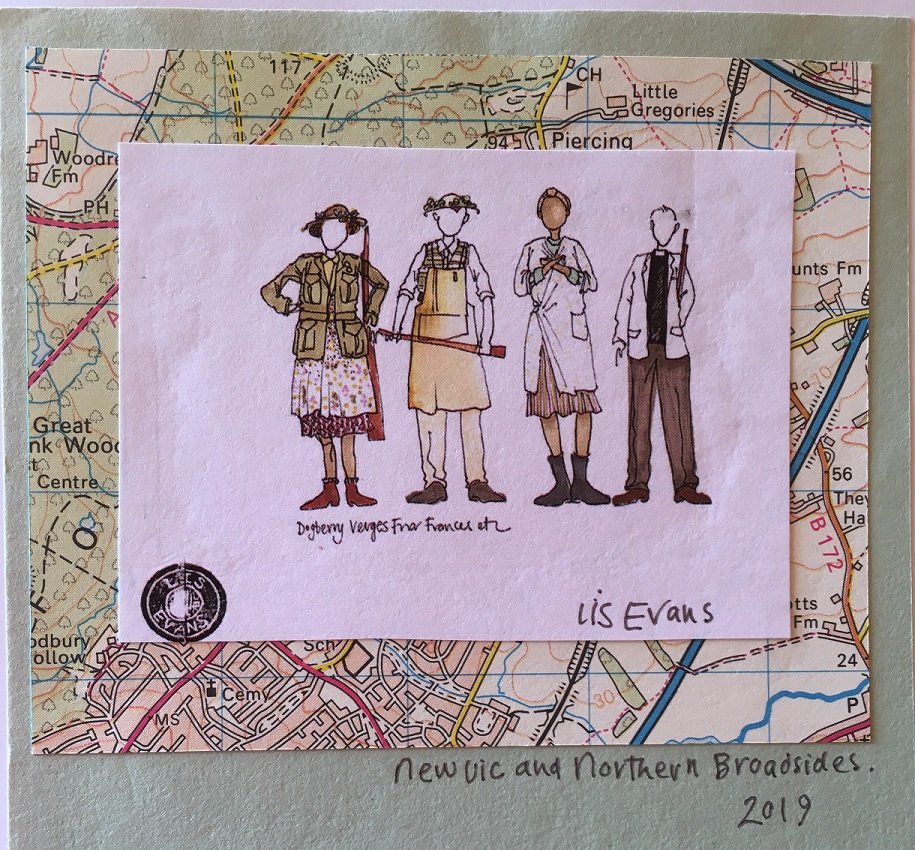 Stay positive – this week why not? We've been thoroughly enjoying the show streams from Shakespeare's Globe in London, which they've generously released to keep audiences entertained during the pandemic. We'd like to recommend its most recent offering – The Two Noble Kinsmen – directed by friend of the New Vic (and former Northern Broadsides Artistic Director) Barrie Rutter OBE, and starring former New Vic Young Company member Francesca Mills! It is available to watch for free on YouTube here until 18 May.
Until next time, stay safe… we'll see you soon as soon as we are able.