Andy Burse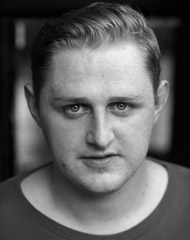 Andy Burse
Squire Trelawney
This is Andy's first appearance at the New Vic.
Theatre credits include: The Lock-In (Over the Limit); Wojtek: The Happy Warrior (Quarter Too Ensemble); Cat Ninelives (Walking Forward); Tuesday (Upstairs At Three And Ten) Henry V (Minerva Theatre); Tiny Tempest (MiniMall); Uncle Montague's Stories From the Shadows, The Comedy of Errors,  Antigone, A Respectable Wedding (OnO Theatre).
Film credits include: On Chesil Beach (Number 9 Films).
Television credits include: Guiltology (Nutopia Limited).
Radio credits include: Riot Girls (BBC Radio).
Theatre at Rose Bruford include: The Cane; Urinetown: The Musical; Egor Bulychev and the Others; Henry V; Attempts on her Life; My Marriage Is…; Orpheus Descending.
Andy graduated from Rose Bruford in 2016.