Anji Carroll CDG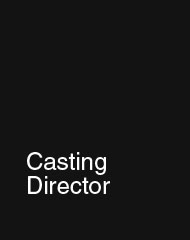 Anji Carroll CDG
Casting Director
For the New Vic: over 50 plays, including award-winning  The Snow Queen  (winner  of the UK Theatre Award for Best Show for Children and Young People) and  Around The World In 80 Days  (co-production with Kenny Wax Family Entertainment, Simon Friend and Royal Exchange – winner of the Cameo Page to Stage  Award).
Current theatre credits:  The Worst Witch (Northampton's Christmas show but now on a national UK tour with the hope of transferring into the West End for summer); Around The World In 80 Days (New Vic but soon to re-rehearse for a short USA tour) and The Giant Jam Sandwich (New Perspectives Theatre and soon to start its third tour).
Previous theatre credits: Pinocchio  (Birmingham Old Rep); The Wizard of Oz (Pitlochry Festival Theatre); The Jungle Book (Northampton and UK tour);  Before the Party,  Echo's  End and Aladdin  (Salisbury Playhouse);  Lost Boy and Alice in Wonderland (Theatre in the Quarter); Harvest,  The Lovesong of Alfred J Hitchcock and others (New Perspectives);  Judgement Day  (the Print Room);  Precious Little Talent  (Best Play at the 2011 London Theatre Festival Awards – Trafalgar Studios);  Richard III, Macbeth and Othello  (Ludlow Festival); seasons for the  Exeter Northcott  Theatre and Bristol Old Vic, including  Henry IV parts one  and  two,  The Notebook of  Trigorin,  Who's Afraid of Virginia Woolf?, Antigone, The Beggar's Opera, A Chorus  of Disapproval and  Betrayal  (Bristol Old Vic).
Television credits include:  BBC2's comedy drama series  The Cup;  The Bill  (over 50 episodes); The  Sarah Jane Adventures – Invasion of the Bane; two series  of  London's  Burning  (32 episodes) and  The Knock  (4 x 90-minute episodes).
Other credits include: Papadopoulos & Sons, West Is West, Mrs Ratcliffe's Revolution, Out of Depth and The Jolly Boys' Last Stand; and drama-documentary: Curiosity – What Sank Titanic?, Mayday and Joan of Arc.
Radio credits include: BBC Radio 4 political drama series Number 10.
Anji is a member of the Casting Directors' Guild of Great Britain and BAFTA.