Anji Carroll CDG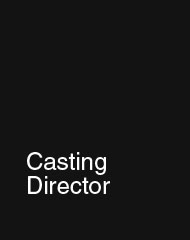 Anji Carroll CDG
Casting Director
For the New Vic: Over 50 plays for the New Vic Theatre including the award winning Snow Queen and Around the World in 80 Days.
Theatre credits include: The transfer of Around the World in 80 Days (Royal Exchange & UK tour and in 2019 it's off to Broadway!); The Jungle Book (Northampton and  UK tour); Before The Party, Echos End, Aladdin (Salisbury Playhouse); The Ladykillers (New Wolsey Theatre Ipswich); The Lost Boy, Alice in Wonderland (Theatre in the Quarter); The Giant Jam Sandwich, Hood (New Perspectives); Judgement Day (the Print Room); Precious Little Talent (Best Play at the London Theatre Festival Awards 2011 – Trafalgar Studios); Richard III, Macbeth, Othello (Ludlow Festival); Seasons for the Northcott Theatre Exeter and Bristol Old Vic including Henry IV parts one and two, he Notebook of Trigorin,The Wizard of Oz, Who's Afraid of Virginia Woolf?, Antigone, The Beggar's Opera, A Chorus of Disapproval, The Wind in the Willows, Betrayal (Bristol Old Vic).
Television credits include: BBC2's comedy drama series The Cup; The Bill (over 50 episodes); The Sarah Jane Adventures – Invasion of the Bane; two series of London's Burning (32 episodes); The Knock (4 x 90-minute episodes).
Other credits include: feature film: Papadopoulos & Sons, West Is West, Mrs Ratcliffe's Revolution, Out of Depth, e Jolly Boys' Last Stand; drama-documentary: Curiosity – What Sank Titanic?, Mayday and Joan of Arc.
Radio: BBC Radio 4 political drama series Number 10.
Anji is a member of the Casting Directors' Guild of Great Britain and BAFTA.