Vote for the New Vic to be the UK's Most Welcoming Theatre 2018 in the UK Theatre Awards! If you think we deserve to be crowned the UK's Most Welcoming Theatre this year, head to uktheatre.org/vote and vote for us!
Charline Kandilian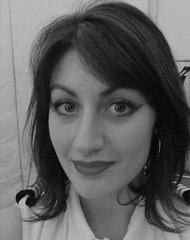 Charline Kandilian
Circus performer
This is Charline's first appearance at the New Vic.
Charline is a circus artist specialised in aerial performance. She has worked with companies like Upswing, Gandeys, Circulus, Cirque Piedon, GC Production and she was part of an International Festival in France in 2016.
She has a Guinness book record on Aerial
Charline trained at National centre for circus arts. She graduated in 2014