David Nellist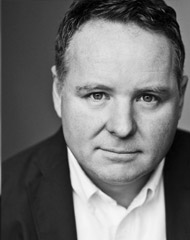 David Nellist
Oliver Kilbourn
For the New Vic: The Throne, Unearthed, Magic.
Theatre credits include: The Curious Incident of The Dog In the Night-time, War Horse (National Theatre); Billy Elliot (West End); Nicholas Nickleby (Chichester, West End, Toronto); Much Ado about Nothing , Globe Mysteries (Shakespeare's Globe); Wet House, Searching for Tom, You Couldn't  Make It Up, You REALLY Couldn't Make It Up, Toast and Smack Family Robinson (Live Theatre); Blue Remembered Hills, Close the Coalhouse Door (Northern Stage/Live Theatre); Releevo (Map Studio); Junket (Arcola); Alf Ramsey Knew My Grandfather, The Likely Lads, The Far Corner (Durham Gala); The Taming of The Shrew (Salisbury Playhouse); Up on the Roof (Colchester Mercury); Hey Hey Good Looking (Soho Theatre); Comedians (Comedy Actors); Elton Johns Glasses (West End); The Warp (Ken Campbell).
Television credits include: Harley and the Davidsons, Taboo, Sherlock, Boy Meets Girl, Holby City, M.I High, Omid Djalili Show, Murder on the Victorian Railway, 55 Degrees North, Breezeblock, Rhona, Rough Justice, Sorry About Last Night, Spender (BBC); Ghostboat, Northern Lights, Place Of the Dead, The Gambling Man, The Student Prince, Badger, The Bill. (ITV).
Film credits include: Lady Macbeth, Twelfth Night, Sket (Revolver).
Radio credits include: Home Front, Close The Coalhouse Door, Blood, Sex and Money.
Twitter – @Nellidge