Dennis Herdman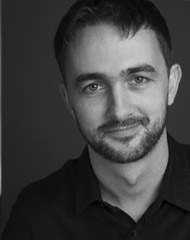 Inspector Fix
For the New Vic: Around The World In Eighty Days (2013; 2014 co-production with Royal Exchange Theatre). Bleak House.
Theatre credits include: The Lounge (Soho Theatre);The Winters Tale, Pericles, The Oresteia, Measure for Measure, The Night of the Burning Pestle (Shakespeare's Globe); A Mad World My Masters (RSC / ETT); The Secret Agent (Theatre O / Young Vic); A Midsummer Night's Dream (Told by an Idiot / Svenska Teatr).
Dennis has also worked for: Theatre by The Lake, Clywd Theatr Cymru, Manchester Library, Coventry Belgrade, Chester Gateway, Big Telly, Penny Dreadful, Cherub Theatre, Shifting Sands,  Cartoon de Salvo, Walk The Plank, Compagnie ACT, Compagnie Quarks, Theatre Royal Bury St Edmunds.
Television credits include: Little Soldier, Third Party, Knightfall (A & E Studios); Brum (Ragdoll/BBC); City Central, Close Up North, The Anorak (BBC).
Radio credits include: Romance is Dead, Secret Kebabs (BBC Radio 4).
Short Films include: DJ's (Ursus Films); Bob Leonard (Mandrake Media); Manhunt (Doyouwishtocontinue); The Driving Seat (Turn the Slate).