Graeme Clint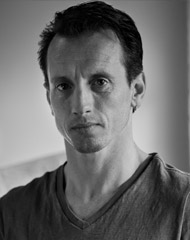 Graeme Clint
Pirate/ Witches
For the New Vic: Aerial consultant on Robin &Marian, The Borrowers, Peter Pan as a trainer, rigger and performer.
Graeme is an accomplished performance artist who has worked as a Dancer, Circus Performer/Rigger, Choreographer and teacher for over 15 years. Graeme completed the degree course in Dance Performance at Middlesex University. During which time he worked with the highly acclaimed dancer/choreographer Christopher Bannerman. He then completed an intensive year of circus training at Circus Space, after which he performed as a 'Ninja' aerialist in 'The Millennium Dome@ Opening Ceremony. To then go on to perform as a bungee stilt aerialist and as a lead role understudy as 'Skyboy' in the Millennium Dome show. "OVO". Graeme works regularly on aerial performances as Circus Aerialist., harness based aerialist and performance rigger. He worked for a number of high profile events and circus companies, such as the Olympic Ceremonies and Upswing.
Theatre credits include: Gravity, A love Story (Sadlers Wells with Craos Mor); Genau-Resolution (The Palace Theatre, London); What Happens in the Winter (Upswing).