Hugh Simon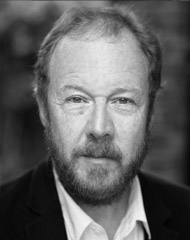 Hugh Simon
St.John Greatorex/ Working man
For The New Vic Theatre: A fine Bright Day Today, Inherit The Wind.
Theatre credits include: Edward II (Royal Exchange Manchester); Epitaph for George Dillon (Comedy Theatre); King Cromwell (Orange Tree); King Lear, The Tower (Almeida); Troilus & Cressida, Merry Wives of Windsor, As You Like It, Il Candelaio, Les Liaisons Dangereuses (RSC & Broadway); The Color of Justice (Tricycle/RNT/Tour); The Ghost Train, Translations (Bristol Old Vic); Srebrenica (Tricycle/RNT/Belfast); Nuremburg (Tricycle Theatre); Importance of Being Earnest (Perth Theatre); Ideal Husband, Murder at The Vicarage, All My Son's, Barrie Play's (Pitlochry Fest '94); The Cenci (Lyric Hammersmith); The Story of Ah Q (Soho Poly); Games (The Gate); Shylock (Riverside Studio); Hedda Gabler (Octagon Bolton).
Television credits include: Maigret, Last Tango in Halifax, To Walk Invisible, In The Club, Endeavor, Doctors, Spooks (series 9); Our Zoo (Flix Facilities); The Mill (Series 2 – Channel 4); Vera, Red Fox, Selling Hitler (ITV); The Queen (Blast!Films/ C4); Shackleton (Shackleton Films); Attachments (BBC Television); Cold Feet, Prime Suspect (Granada); North Square (Lawzone/ Channel 4); Randall & Hopkirk Deceased (Ghost Productions); Big Bad World (Carlton); Trust (Red Rooster); Vanity Fair, In the Red, No Bananas, Dangerfield, The Man from Auntie, Between the Lines, Downtown Lagos, Christabel, House of Elliott (BBC); Highlander (Davis-Panzer Productions); Ruth Rendell Mysteries, Bribery & Corruption (Blue Heaven Productions); Heat of the Sun (Central); Mosley (Alomo Productions); The Peter Principle (Hatrick);  Anna Lee (Carnival); Lovejoy (Witzend); A Vote for Hitler (Channel); Home James (Thames); Star Trap (Zenith).
Film credits include: Ester Waters, Legacy, The Brief, The Mark, Frankie Takes A Trip, Stone, The Long View, Spooks: The Greater Good (Kudos Films); Salmon Fishing in the Yemen (Ealing Productions); Match Point (BBC Films); A Different Loyalty (Lionsgate Films); Possession (Warner Brothers); Longitude (Granada Films); Lucan (Lucan Productions); Tom and Viv (New Era); A Handful of Dust (LWT).
Hugh Simon studied Law at Nottingham University before taking a Post-Graduate Course at the Webber Douglas Academy of Dramatic Art.