James Earls-Davis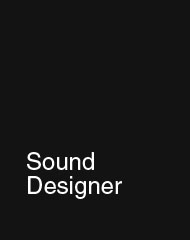 James Earls-Davis
Sound Designer
For the New Vic: all main-house sound designs since 1987 including: Diana of Dobson's, Kiss Me Quickstep  (with Alex Day), Robin Hood & Marian (with Alex Day), Seeing the Lights, The Hoard Festival, The Ladykillers, Dracula (with Alex Day), The Borrowers, Ghosts, A History of Falling Things, Around the World in Eighty Days, Inherit the Wind, I Don't Want to Set the World on Fire!, The Memory of Water, The Hundred and One Dalmatians, Stones in His Pockets, Widowers' Houses, The Thrill of Love, Talking Heads, A Christmas Carol, A Bright Fine Day, Far From the Madding Crowd, Where Have I Been All My Life?, Alice in Wonderland, The Glass Menagerie, The Admirable Crichton, Spring and Port Wine, The Rivals, Bus Stop, Peter Pan, Bleak House, Alphabetical Order, Humble Boy, And a Nightingale Sang, The Lion, the Witch and the Wardrobe, Bouncers, The Daughter-in-Law, Dumb Show, A Taste of Honey, Honeymoon Suite, The Price, A Voyage Round My Father, Arabian Nights, The Weir, Dangerous Corner, Flamingoland, Don Giovanni, Great Expectations, Laurel and Hardy, Be My Baby.
Original music includes: Bell, Book and Candle, The Thrill of Love, Gaslight, Proof, Desire Under the Elms, Copenhagen, Blue/Orange, Misery, Dealer's Choice, Romeo and Juliet, Broken Glass (solo), Talking Heads, Smoke, Once We Were Mothers, Kes, All That Trouble That We Had (with Russell Gregory); The Wicked Lady, Romeo and Juliet, and A Fine Bright Day Today (with Sue Moffat).
Sound design and/or original music includes: The Game (Northern Broadsides); A Number (Library Theatre, Manchester); These Four Streets (Birmingham Rep); Rebecca and Frozen (Theatre by the Lake, Keswick); King Macbeth, Silent Anger, Homefront, and Sticks and Stones (Reveal Theatre Co); Twelfth Night (Belgrade, Coventry); Her Big Chance (Harrogate); several sound designs and/or original music for New Vic Borderlines and Education projects, and soundtracks for community arts projects and films.