Jimmy Fairhurst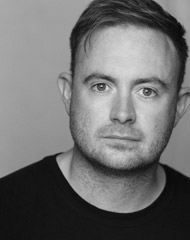 Jimmy Fairhurst
Man
This is Jimmy's first appearance at the New Vic.
Theatre credits include: Cinderella (Not Too Tame/Seabright); See How They Run, Latitude Festival; Electric Eden – Tour Of China 2017 (Not Too Tame); Look Back In Anger (Derby / Bolton Octogon); Brassed Off (Derby); Fluxorama (Theatre 503); Early Doors (Not Too Tame/ Edinburgh); Kes (Derby); Tis Pity She's A Whore (Cheek By Jowl); Oi For England (Not Too Tame); King Lear, Mary Stuart, Festen, Pornography, Summerfolk, London's Cuckolds, Taming Of The Shrew And A Midsummer Night's Dream (Royal Welsh College of Music and Drama).
Television and film credits include: Britannia (Vertigo Films); Emmerdale (ITV); The Royals (Lionsgate); Topsy & Tim (CBEEBIES); Doctors (BBC); Peterloo (Thin Man Films Ltd).
Jimmy is the Artistic Director of Not Too Tame Theatre Company.
Jimmy graduated from the Royal Welsh College of Music and Drama.