Leigh Symonds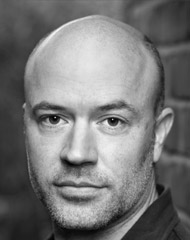 Leigh Symonds
Bernard
Leigh has appeared at the New Vic in Stephen Joseph Theatre Productions.
Leigh trained at Manchester Metropolitan University and is well known to Scarborough audiences having appeared in last year's Better Off Dead and Joking Apart; 2017's Taking Steps; The Karaoke Theatre Company and Consuming Passions (both 2016) and, in 2014, in Roundelay. His other appearances at the SJT in recent years include Andy in The Hoarder, Dr Bradman in Blithe Spirit and Mr Ratus in The Nutcracker.
Theatre credits include: Rosencrantz in Rosencrantz and Guildenstern Are Dead, Stuart in Private Fears In Public Places, Glengarry Glenross, The Importance of Being Earnest, Gameplan, Much Ado About Nothing, Arcadia, Hamlet, Hidden Markings, Traffic and Weather (Library Theatre, Manchester); Bill Sykes in Oliver! (Dukes, Lancaster); Accidental Death Of An Anarchist, Dumb Show, Cinderella, Perfect Days, Dr Watson in The Hound Of The Baskervilles (Oldham Coliseum); The Crucible, The Seafarer, Wayne in Popcorn
Bolton Octagon – winner of Manchester Evening News Theatre Award for Best Actor 2004); The Baby And Flypie, Macbeth (Royal Exchange, Manchester).
Television credits include: Emmerdale, Hollyoaks, Always And Everyone, Coronation Street, Heartbeat, The Marchioness, The Stepfather, City Central, Reckless, It's Adam And Shelly. Film includes: Boy A, Runners, The Painter.
Radio credits include: China Girl, Silas Marner, Excluded, Germinal, Erewhon (BBC Radio Drama).