Vote for the New Vic to be the UK's Most Welcoming Theatre 2018 in the UK Theatre Awards! If you think we deserve to be crowned the UK's Most Welcoming Theatre this year, head to uktheatre.org/vote and vote for us!
Luke Murphy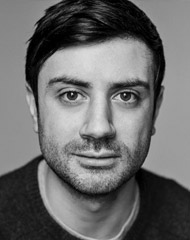 Luke Murphy
Billy the Military Horse/ Dibdin
For the New Vic: The Snow Queen (winner of the UK Theatre Awards for Best Show for Children and Young People).
Theatre credits includes: Burkas and Bacon Butties  (The Vault Festival);101 Dalmatians (Birmingham Rep); Fossils (Bucket Club 59E59 Theatre NewYork); Captain Morgan & the Sands of Time (Tap Tap Theatre); The Sunset Five (Pleasance Theatre/Greenwich Theatre); Thank You for Smoking (Southwark Theatre); Inheritance Blues (Hull Truck/West Yorkshire Playhouse); Fade (Dugout Theatre); Hamlet (Bedouin Shakespeare Company); Nurture (Theatre 503); The Birthday Party (Dugout Theatre).
Television and Film credits includes: Twelfth Night (Interactives Shakespeare Co).