Mike Hugo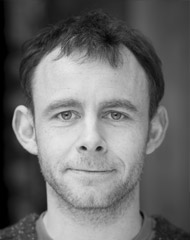 Michael Hugo
Firefly
For the New Vic:  Around the World in 80 Days, Far From the Madding Crowd, Where Have I Been All My Life, Alice in Wonderland, The Admirable Crichton, Proof, The Rivals, Peter Pan, The Canterbury Tales, Lion, the Witch & the Wardrobe, The Wicked Lady, Great Expectations, Stags and Hens, Christmas Carol, Pinocchio, Kes.       
At the New Vic: The Winter's Tale, The Grand Gesture, Accidental Death of an Anarchist, Lisa's Sex Strike, The Tempest, Vacuum (Northern Broadsides).
Theatre credits include: Frozen (Fingersmiths); The Hunt for the Scroobius (Sticks Theatre Co.); Wind in the Willows (Birmingham Rep); Broken Time (Three Stones Media); Peter Pan (Spiller's); Babes in the Wood (Oldham Coliseum); Breaking the Code (Chester Gateway); The Rise and Fall of Little Voice (Oldham Coliseum).
Television and Commercial credits include: Hero Goalie (Abbot Meade Vickers BBDO); I'm With Stupid (BBC); Sir Gadabout (Alibi Productions).