Naomi Petersen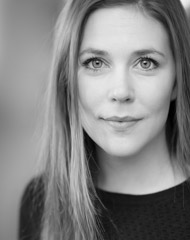 Naomi Petersen
Grace, Faith, Charity and Hope
Naomi as appeared at the New Vic in Stephen Joseph Theatre Productions.
Naomi was delighted to return to the Stephen Joseph Theatre after first performing there last summer.
Theatre credits include: Joking Apart, Better Off Dead (SJT); By Jeeves (The Old Laundry Theatre); The Sorcerer's Apprentice (Ambassadors); I Am Telling You I'm Not Going (Pleasance); Tender Loving Care (New Theatre Royal Portsmouth); The Witches of Eastwick (Watermill); Ashes (Arcola); Angus, Thongs and Even More Snogging (West Yorkshire Playhouse); Schnapps (Lyric Hammersmith).
Television and film credits include: Drifters (Bwark); Jitterman (Raedar Productions); Pop Sludge (4Music); At First Sight (Rankin Film Productions).
Radio credits include: Joseph Morpurgo's Walking Tour (BBC Radio 4).
Naomi is Head of Creative Development at leading London improv comedy theatre The Free Association, where she also teaches and performs.