Paschale Straiton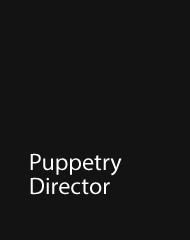 Paschale Straiton
Puppetry Director
For the New Vic: Puppetry Director for The Snow Queen (winner of the UK Theatre Awards for Best Show for Children and Young People); Robin Hood and Marian, The Borrowers, Actor/Assistant Director for The Hundred and One Dalmatians, Alice in Wonderland, Director of the New Vic Fringe and Assistant Director for The Rivals, Bus Stop, Peter Pan and Desire Under the Elms.
Theatre credits include: Opening Skinners Box (Improbable); Full Circle (Avanti Display); Romantic Botanic (Miracle Theatre); The House of Cards (Coney); Sweet Smell of Success (Bureau of Silly Ideas); The Enchanted Palace (Wild Works); Get Lost (Dot Comedy); Invisible Bonfires (Forkbeard Fantasy); Sturgeon Moon (Desperate Men); Rough Magyck (Forkbeard Fantasy – Complete Works Festival, RSC); The Sunflower Plot (Cartoon de Salvo); The Bitches Ball (Penny Dreadful Theatre Company); Loser (Company FZ); Romeo and Juliet, and Doctor Faustus (Shifting Sands Theatre).
Directing credits include: Performance director for River Stories (Walk the Plank); Wake Up and Deirdrealize (I am a Nincompoop); unny Peculiar – A Guide to Eccentric Britain (Red Herring); Changing Places (Time Wont Wait); Drive In (Sitelines Festival, Reading); That's the Way to Do It! (both Red Herring); Mr Honk and His Sad Trombone (the Honk Project); co-directing The Devil's Doctor and Great Expectations (Shifting Sands Theatre).
She is Artistic Director of Red Herring Productions, an outdoor theatre company based in Bideford, North Devon.
Paschale studied at Bristol University and trained at Circomedia, centre for contemporary circus and physical theatre, and at Birkbeck College Theatre on the Directing MFA.