Rebecca Killick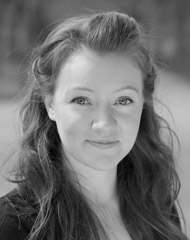 Rebecca Killick
Wendy
This is Rebecca's first appearance at the New Vic.
Theatre credits include: The Last Mermaid (Wales Millenium Centre); Pink Mist (Bristol Old Vic); One Snowy Night (Norden Farm Productions); One Minute (Delirium); Warhorse (National Theatre); A Midsummer Night's Dream (Meyer Theatre); Grease (Turner Auditorium); Blithe Spirit (Turner Auditorium); When Do We Start Fighting? (Courtyard Theatre); 4.48 Psychosis (Royal Academy of Music); Swifter, Higher, Stronger (The Roundhouse); The Cherry Orchard (Richard Burton Theatre Co.); A Vampire Story (Richard Burton Theatre Co.).
Film credits include: Fugue State (FireParty Films); Vertical Drop (Sci-Fi 48 Hour Film Festival).
Rebecca trained at the Royal Welsh College of Music & Drama. She has also represented Wales in gymnastics.