Stefan Ruiz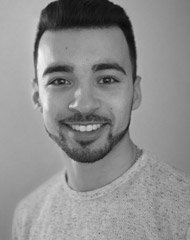 Understudy Inspector Fix/ Captain Speedy/ Colonel Proctor/ ASM on tour/ Fight Captain.
This is Stefan's first appearance at the New Vic.
Theatre credits include: The King & I (London Palladium/UK Tour); The Lion King (Lyceum, Covent Garden); The Far Pavillions (Shaftesbury Theatre); Wildefire (Hampstead's Main Stage); In The Night Garden Live (UK Tour); Secret Cinema Presents Dirty Dancing
(2016).
TV and online commercials and apps include: Walkers Crisps (1999); MTV Road Safety 'THINK' campaign (2007); Sure Mens Deodorant (2015); Zombie Gunship Survival.
As Fight Director: Macbeth Verdi (Southgate Opera Company).
Stefan is stage combat teacher for True Edge Stage Combat and Assistant Stage Combat teacher for the Academy of Performance Combat (APC).
Stefan trained as an actor at Guildford School of Acting.