Susie Emmett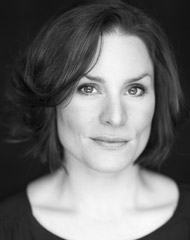 Susie Emmett
Mrs Sutton
For the New Vic: Inherit the Wind, I Don't Want to Set the World on Fire.
At the New Vic: A Government Inspector (For Northern Broadsides).
Theatre credits include: A Match Made in Heaven (Frinton Summer Theatre); Absent Friends (LCT); The Road to Nowhere (Croydon Fairfields Halls); Who's Under Where?, A Piece of Cake (The Mill at Sonning); Le Bourgeois Gentilhomme (Salisbury Playhouse, Theatre Royal Bury St Edmunds and Tour); Broken Time (Harrogate Theatre and Tour); Blonde Bombshells of 1943 (UK and International Tour); Clara (Orange Tree Theatre); Arabian Nights (Key Theatre);  Dick Barton and The Quantum of Porridge, The Mystery of Edwin Drood (Warehouse Theatre); Lark Rise to Candleford (Finborough Theatre); King Arthur (Arcola Theatre); The Librarian's Joke (Croydon Clocktower); One Hit Wonderer (The Hens and Chickens Theatre); The Same Old Story/Frog Prince (Cockpit Theatre); An Absolute Turkey (The Electric Theatre); Claw (Greenwich Theatre); The Lesson (RAFTA).
Television credits include: Eastenders, Waking the Dead, Doctors, Casualty (BBC).
Film credits include: The Man who Married Himself (Ribeye Films); Fade to Grey (Allan Fentiman); Acid, Accidental Death (Carcin Productions); Moon Bacon (Wide Films); Butterfly (AP Production).
Susie trained at Guildford School of Acting.