Suzanne Ahmet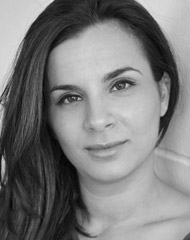 Suzanne Ahmet
Tootles
For The New Vic:  The Hoard Festival, Around The World In 80 Days and Arabian Nights
Theatre credits include:  The Light Princess (The Tobacco Factory & Peepolykus); Yarico, The Musical (London Theatre Workshop); Pericles (The Factory, Rutgers Students); The Winter's Tale (Sheffield Crucible); Aladdin (Hall For Cornwall); Eighty Days, The Mother (Steam Industry); Much Ado About Nothing, Dangerous Corner (Theatre Royal, Bury St Edmunds); Ali Baba (The Tobacco Factory & The Theatre, Chipping Norton); The Moon The Moon (Unlimited Theatre); The Knowledge Emporium (Slung Low).  I Had A Black Dog, His Name Was Depression (Small Nose); Women Of Hope (Arora Arts, The Richmix & Amnesty International).
Suzanne has also taken part in rehearsed readings at Bury Theatre Royal and The Globe.
Television credits include: Gittens (Derek Productions C4)  Jonathan Creek, The Judas Tree (BBC).
She is also a freelance Education Practitioner for The Globe and Trestle Theatre