Lockdown diary – Week 12: an update from our amazing 'Vols' and creative online workshops you can get involved in!
8th February 2021
Welcome to our second newsletter of 2021! We hope you are keeping well.
Whilst the New Vic remains closed to the public to help with the efforts against Coronavirus, the New Vic team continues to be busy working with our communities on a whole range of interesting and exciting projects. You can find out a little more about what some of our teams have been up to in our newsletter below.
We're also looking forward to the spring, making plans for how we'll reopen the theatre for all customers as soon as we are able to. We know you're as excited as we are to get back to live theatre and to joining us for a bite to eat and a hot drink in our café too, and we're looking forward to the moment we'll be able to welcome you back through our doors.
Until then, stay safe and we'll keep you up-to-date with our news in these newsletters and online on Twitter, Facebook and Instagram.
Free online theatre skills masterclasses for young people continue this month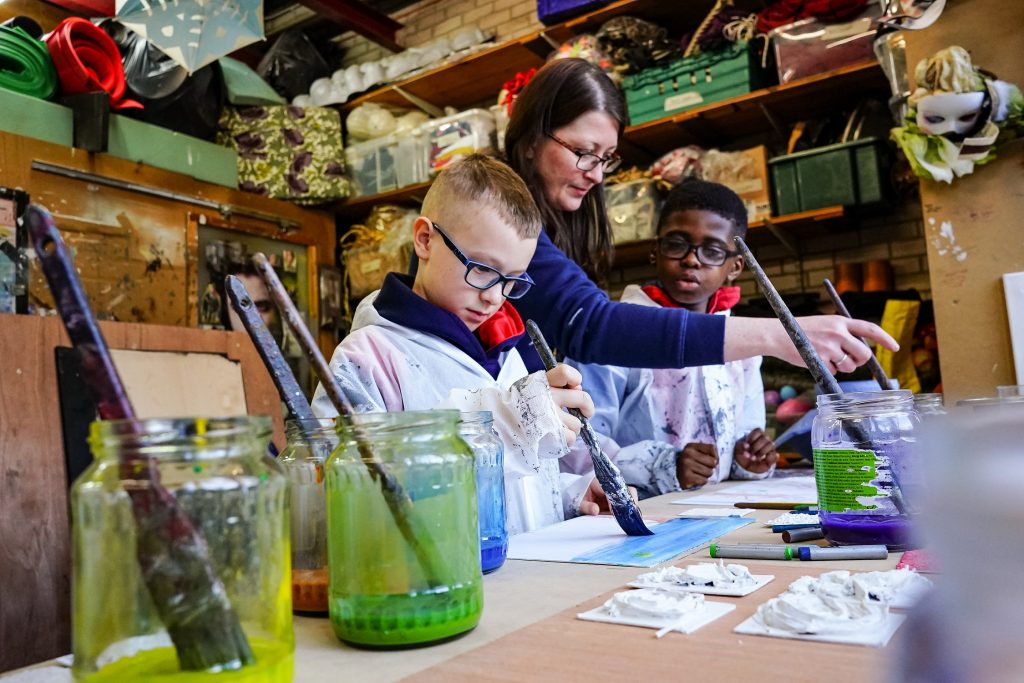 Our Education department has launched a programme of virtual masterclasses for young people which continue into February. Upcoming topics include introductions to making puppets, lighting, and more. For younger learners aged four to seven, we also have a 'Teddy Tales' storytelling get-together on Tuesday 9 February. You can find the full timetable of masterclasses here. To book onto a masterclass, email education@newvictheatre.org.uk.
Borderlines' creative workshops to tackle race, faith and hate crime
New Vic Borderlines have teamed up with the Port Vale Foundation Trust and Sporting Communities CIC for a project funded by the Ministry for Housing, Communities and Local Government addressing faith, race and hate crime, called It's Not As Simple As Black and White. They are inviting people to join the first phase of interactive workshops using creative writing, poetry, music, technology, art and sport to explore why hatred exists and how we can make a difference. If you are interested in taking part email Rachel Reddihough at rreddihough@newvictheatre.org.uk.
Appetite's The Gift provides a message of hope for 2021
New Vic-led Creative People and Places programme Appetite commissioned Cultural Champion for Newcastle-under-Lyme Gabriella Gay to create an inspiring poem, called The Gift, which you can listen to here. A line from the poem, 'Roar Open With Hope', will appear as a bold neon installation in Hanley in the spring.
Meanwhile, Appetite – in conjunction with GRAIN photography hub and Newcastle-under-Lyme Business Improvement District – is celebrating Newcastle-based business owners and employees with outdoor exhibition Familiar Faces, on Newcastle's Ironmarket and High Street. Check it out when doing your essential shopping or daily exercise.
New Vic Vols…
This week we wanted to highlight some amazing people very close to our hearts who, under normal circumstances, generously give their time to support performances – always with a smile on their face.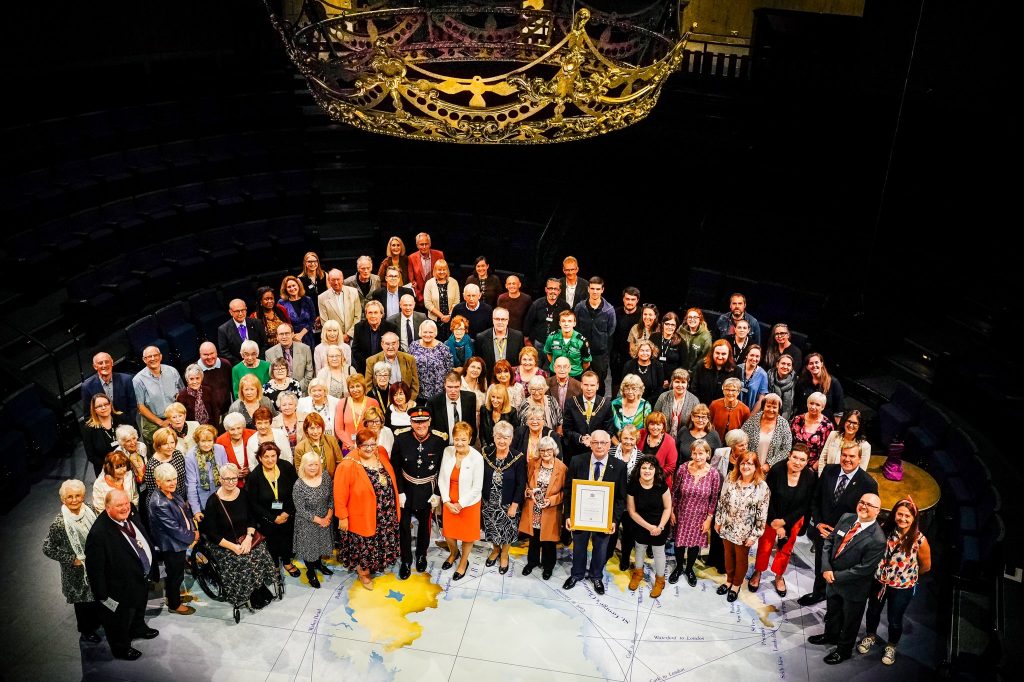 A really important part of our Front-of-House team is the New Vic 'Vols', and during performances, they provide outstanding customer service for all our audiences. During the past year, we've been keeping in regular touch with the Vols while we haven't been able to see them in person, and we're pleased that it's given us the opportunity to get to know them even better! Here, Front-of-House and Visitor Services Manager David Sunnuck explains how we've been keeping in touch:
Many of our 'Vols' give their time because they value the social interactions that come with volunteering at the New Vic. For some, the theatre being closed for performances has left a significant gap in their day-to-day lives. Whilst we've all been required to make sacrifices over the last year, many of our Vols live alone so we were very aware of loneliness having an impact on them. We felt it important to offer our support directly, or to facilitate them supporting one-another. After all, volunteers have supported the New Vic for years. This was recognised nationally in 2019 when the Front of House Volunteers received the Queen's Award for Voluntary Service, the highest award for a voluntary group. Everyone at the New Vic was delighted by this and it was an endorsement of what we already knew. But the impact of Covid-19 and lockdown has shown another aspect of their willingness to help others.
It's been heart-warming to hear tales from those finding lockdown challenging being supported by other Vols. Much of this is as a result of them forming positive, long-lasting friendships that have come from volunteering at the New Vic.
The communications we send out to our Vols always ignite a follow-up conversation. We don't usually get much time to just chat when we're working with them on our performances so it's been lovely to use this time to get to know a bit more about their lives outside of the theatre. One thing that all the messages form our volunteers have in common is: they all can't wait to get back to welcoming audiences to the New Vic. As one of our Vol's Sue put it "the day the theatre is able to open its doors again I will be raising a glass in celebration!" – and so will we Sue!
Finally, New Vic recommends…
If you are home-schooling and after further inspiration to keep your children engaged, both Gladstone Pottery Museum and The Potteries Museum and Art Gallery have some fantastic resources on their websites. You can check them out here.
Until next time, stay safe, and we look forward to welcoming you back as soon as we can.