Lockdown diary – Week 13: standing up for culture, and 'It's Not As Simple As Black and White' virtual workshops
22nd February 2021
February might be the shortest month of the year, but we know that life continues to put tough challenges in front of us all so we want to wish you well from the New Vic and give you an update on our activities.
As signs of spring start to emerge it has been an exciting and packed month so far for the New Vic… albeit virtually!
We have been blown away by the response to our programme of free online theatre skills masterclasses for young people during this third lockdown. While the masterclasses were aimed primarily at those in our local areas of Newcastle-under-Lyme, Stoke-on-Trent and Staffordshire, we had people join us from across the border in Cheshire, and even from Warrington, Surrey, Northern Ireland and Glasgow! We're thrilled that we've been able to reach and engage many more young people than we would usually be able to, by running these workshops online. It was wonderful to shine a spotlight on such a range of theatre disciplines, and our terrific New Vic staff relished the chance to share their knowledge and skills to inspire young people.
Here's just some of the feedback we've received from parents…
"Big thanks to all at the New Vic Theatre for their fantastic online masterclasses over the past few weeks. My 11-year-old son has done the puppets one, lighting, and stage make-up and has loved every session. Missing his theatre group and this has helped him in lockdown"
"My eldest has done several workshops and it's been really great for her mental health and wellbeing"
"I sat with my daughter for the costume and set design and make-up workshops – they have been excellent, thank you to everyone involved"
Watch this space for more masterclass news soon.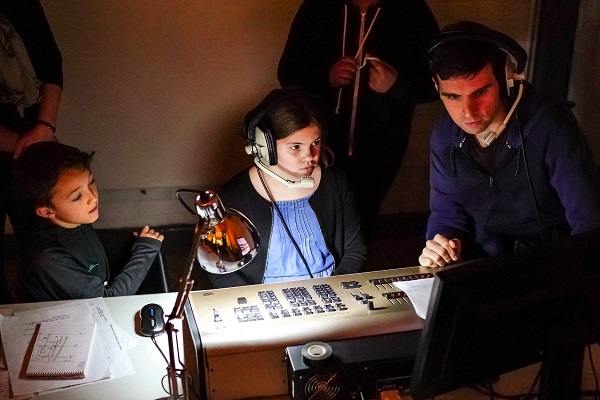 School pupils explore why It's Not As Simple As Black and White in Borderlines workshop
Last week our Borderlines team ran a virtual workshop with 500 young people as part of their It's Not As Simple As Black and White project with Port Vale Foundation Trust and community sports development organisation, Sporting Communities. The workshop looked at what racism is and where it happens, how we can tackle it, and explored the effects of hate on society. Groups of students went away and created their own football chants, posters and videos around the theme.
In a separate online session for the project with the Director and Chair of the Staffordshire Association for Black Lives Equality (SABLE) Sarah Chevolleau, musician Faz Shah taught Borderlines volunteers and young participants how to beatbox and create raps tackling themes around hate.
It's Not As Simple As Black and White is funded by the government's Ministry for Housing, Communities and Local Government.
Standing up for culture as part of #KeeleDealRecovery
Keele University launched Keele Deal Recovery this week, setting out commitments to aid and strengthen local recovery following the coronavirus pandemic. The New Vic is proud to be supporting the deal as one of the partners focusing on cultural regeneration. You can find out more about it here.
Outdoor exhibition of 'empty seats' pops up in Newcastle
The New Vic-led Creative People and Places Programme Appetite has partnered with Newcastle Business Improvement District to bring DUST Rising's playful but poignant outdoor art exhibition, Every Other Seat, to Newcastle High Street, with the support of Newcastle Borough Council. It features a fascinating display of seats designed by artists, which aim to highlight the impact of the coronavirus pandemic on the arts and town centres. One of the chairs – Steel Reflections by Terry Shave – is even inspired by the New Vic's 1974 production Fight for Shelton Bar! You can view the exhibition – which is currently in the former Dorothy Perkins shop window at the Roebuck Centre – whilst doing your essential shopping or daily exercise from now until 22 March. Find out more here.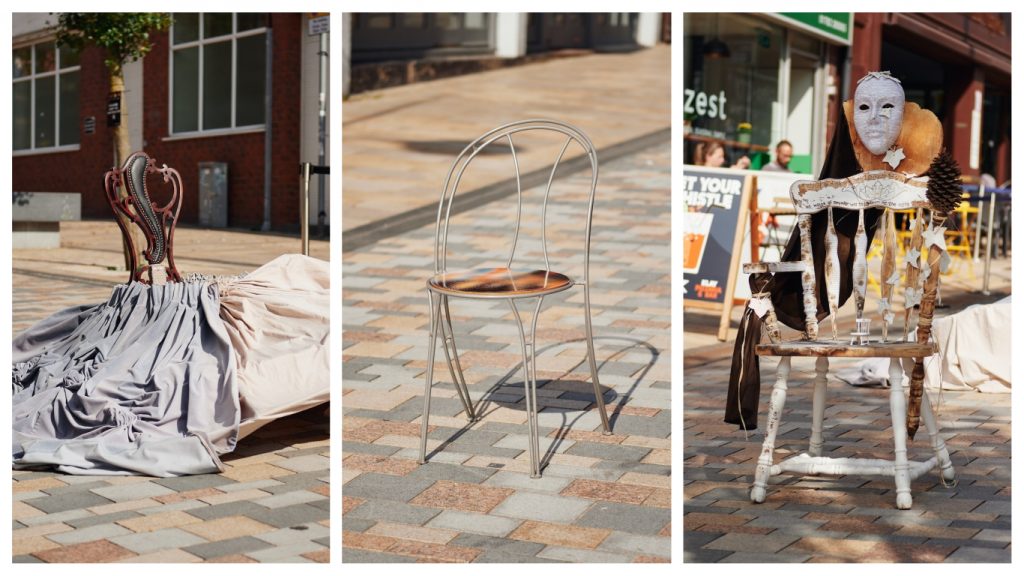 There's also still time to see Appetite's Familiar Faces exhibition in Newcastle-under-Lyme town centre, and the Three Counties Cubes at Trentham Gardens. Find out more here.
Until next time, stay safe.